An Inter-Institutional Platform
for PhDs, PostDocs and ECRs in
Architectural History and Theory,
Landscape and the City
---
FALL SEMESTER 2023 PROGRAM
All the talks are scheduled for
Tuesday, 10 AM-12 PM EST / 4-6 PM CET
(unless indicated otherwise)
Please Note: The program is continuously updated
Regular and Lightning Talks PROGRAM
26 September 2023
Paolo Patelli, Nikola Beim
10 October 2023
Carrie Bly, Elettra Carnelli
7 November 2023
Anastasia Gkoliomyti, Isabel Rodriguez De La Rosa
4 December 2023
Dante Furioso, Aikaterini Karadima
16 January 2024
Milena Charbit, Deborah Feldman, Baptiste Potier,
Jhono Bennet, Sherry Aine Te
23 January 2024
Blanca Garcia Gardelegui, Maria Nitulescu, Kshitija Mruthyunjaya
30 January 2024
Kamyar Salavati, Alizé Carrère
8 February 2024
Alena Beth Rieger, Joshua Silver
︎Zoom Regular, Lighting Talks︎
DocTalks x MoMA PROGRAM

19 October 2023
Adil Mansure, Brent Cox
23 October 2023
Deqah Hussein Wetzel, Jihoi Lee
31 October 2023
Dan D'Amore, Justin Hui
21 November 2023
Maxwell Smith-Holmes, Meg Wiessner
28 November 2023
Bert De Jonghe, Y.L. Lucy Wang
12 December 2023
Gili Merin, Michele Tenzon


︎Zoom DocTalks x MoMA

︎
DocTalks x queer space working group PROGRAM

5 October 2023
12pm EST/6pm CET
Claude Dutson, Kara Plaxa
21 December 2023
12pm EST/6pm CET
Pierre-Yves Anglès, Frederico Teixeira, Benjamin Busch

10 January 2024
12pm EST/6pm CET
Luca Lana, Mariana Parmanhani, Rían Kearney
29 February 2024
12pm EST/6pm CET
Evan Pavka, Daniel Ovalle Costal, Menghang Wu
︎Zoom qswg Talks︎
---
12 December 2023
DocTalks x MoMA
Session 6


"Every Holy Landscape is Shadowed by Evil:"
Ecological Imperialism in 20th Century Jerusalem

GILI MERIN
TU Wien

Respondent: Camila Medina, ETH Zurich/LUS


Detail from the notebooks of C.R‭. ‬Ashbee showing a proposal for the perimeter of the Old City Walls, replacing local flora with pines and a "wild, informal layout" of flowerbeds (1918-1921). Source: Archive Centre, King's College, Cambridge, England, Courtesy Nirit Shalev Khalifa, Yad Ben-Zvi
When the British Empire declared military rule over Ottoman Jerusalem in 1917, its priority was to "restore" the Holy City to its former glory. This resulted in a series of town-planning schemes focused on eradicating any elements that seemed "unworthy" of the holy city's landscape, with the aim of making Jerusalem legible to a reader of the Christian Bible. Palestinian houses were deemed "unsightly obstructions" of the ancient city walls, and indigenous flora, such as cacti and shrubbery, were replaced with imported European species. The result was a picturesque composition of the city's landscape that affirmed the colonial narrative of Jerusalem's salvation, making it more green, productive, monumental — and less Arab.

The impetus to project mythical narratives onto Jerusalem's landscape did not stop when the British left in 1948. In the second half of the 20th Century, Zionists extensively manipulated the landscape as part of a strategy to naturalize the Jewish presence in Jerusalem's built and natural environments. Expanding the park project initiated by the British, the Israeli National Parks Authority expanded the Jerusalem Park by demolishing entire neighbourhoods while leaving others standing as part of a 'picturesque ensemble' reminiscent of ancient landscapes. Planting new trees, adding low-rise shrubbery along the ancient walls, and hiding signs of modernity (such as roads and electrical wiring) from sight, this park was to recreate the landscape of antiquity, and thus stage the time when Israelite kings— such as David and Salomon—had roamed these untouched hills.

Steeped in religious sentiment yet led by colonial motivations, both British and Zionist projects exploited the natural environment to promote their expansionist ideologies. By drawing a line between these two case studies, this talk will highlight the violence embedded in the notion of an imaginary landscape, the manipulation of flora and fauna that its realization entails, and the resulting displacement and erasure of those excluded from the hegemonic narratives that are told by those in power.

***


The Palm Oil Controversy:
Architecture and Environmental Depletion in the Congolese Forest

MICHELE TENZON
Liverpool University

Respondent: Maren Larsen, University of Basel


Diorama of the Huileries du Congo Belge at the Ghent International Exposition, Progress, 14:116, January 1914
Palm oil accounts for over a third of the vegetable oil produced worldwide but its production and use is at the centre of a two decades long controversy. On one hand, NGOs hold palm oil industry responsible for both degradation of the environment, increasing poverty of indigenous people, and attacks on human rights. On the other hand, independent scientists argue that the development of oil palm plantations can contribute to meeting the food needs of a growing global population, and to a decline in rural poverty.

When in 2017, the Colombian-Congolese company Strategos bought the land and the buildings of Lusanga, in the Democratic Republic of Congo, and the surrounding palm oil plantation, the population of this historical site for palm oil extraction in the country was hoping to revive a long lost, idealized past. Lusanga was formerly known as Leverville, named after Lord Lever, the British tycoon who had acquired concessions in 1911, in the then Belgian Congo. The villas built for the European managers, with their tropical modernist architecture plunged in the lush vegetation, hint at a seemingly glorious past.

The semi-abandoned surrounding plantations and the rows of workers houses inhabited by an impoverished and unemployed population remind us of a violent past of labor exploitation and environmental depletion.
The failure and abandonment of Leverville which was once meant to be the crown jewel of the five plantation complexes established in the Congo basin, the symbolism of its radially arranged avenues, now barely legible through the overgrown weeds, tells us the story of how poor knowledge of environmental, human and technical factors crushed the ambitions of a giant of global capitalism. The violent conflicts that have broken out in 2015 and 2019 in the Boteka and Lokutu company towns, two other former Lever's palm oil concessions testify of the long-term effects of natural resource extraction in the Central African forest.


---
21 December 2023
12pm EST/6pm CET
DocTalks x qswg
Session 2

Respondents:
S.E Eisterer, Princeton SoA &
Facundo Revuelta, FADU, University of Buenos Aires
GAY RIGHTS & GAY SITES
Places as means to account for politics and protest in the genre of memoirs
(Cleve Jones, When We Rise, 2016)

PIERRE-YVES ANGLES
Ecole Normale Supérieure (ENS-PSL) Paris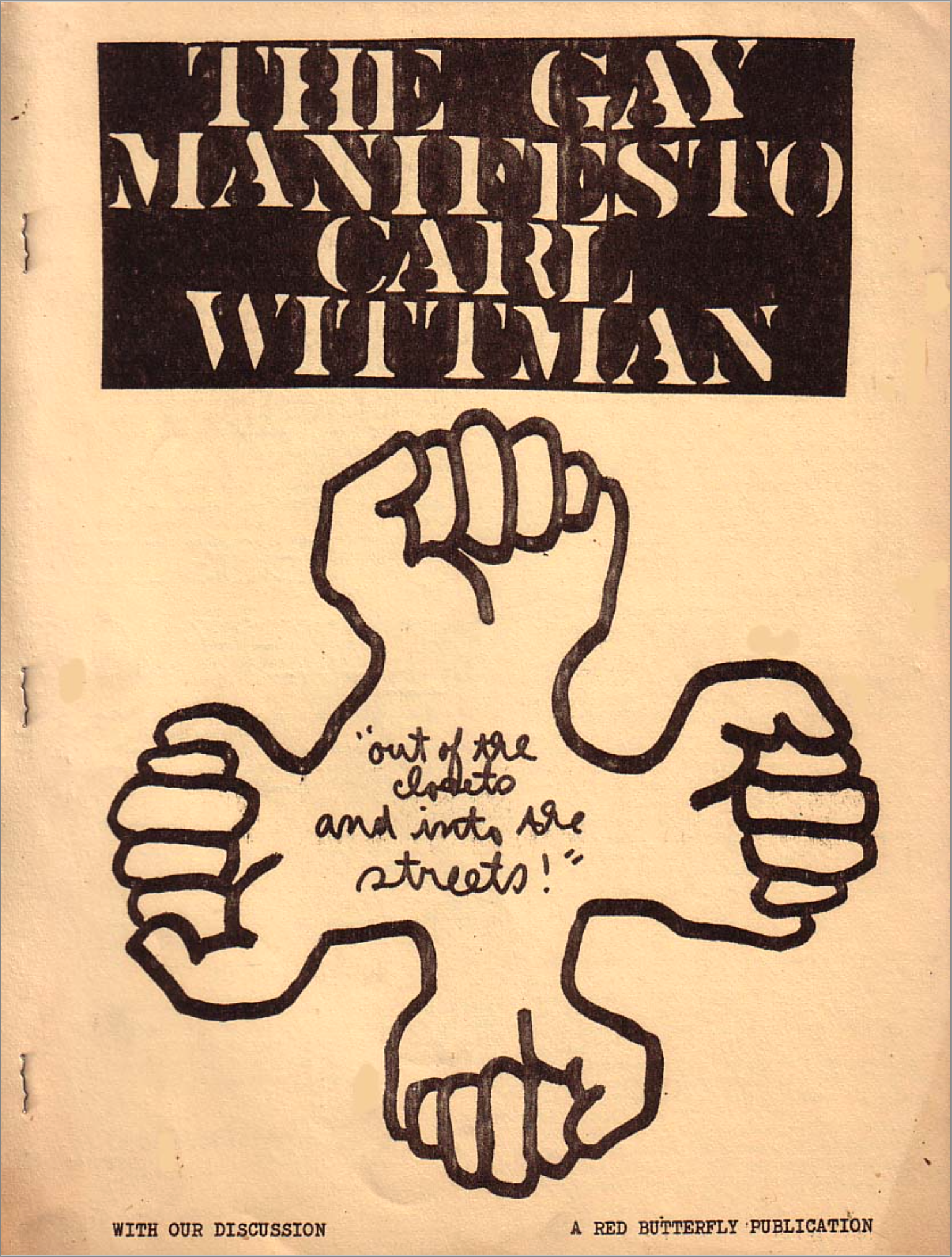 Carl Wittman, Refugees from Amerika: A Gay Manifesto (The Red Butterfly / Gay Liberation Front, 1970)
American LGBT+ rights activist Cleve Jones got much visibility through the biopic Milk (Van Sant, 2008) and the series When We Rise (Black, 2017). The latter happens to be inspired by his memoirs, a thorough account of the advancement of LGBT+ rights in the USA from the 1970s to nowadays. This historical testimony holds a more personal project as he pays tribute to deceased activists and victims of AIDS while addressing queer generations to come. This intent of testifying while transmitting, some would say lobbying, greatly benefits from various uses of space, strategies central to this paper that binds literary non-fiction, queer history and spatial studies.

Places convey meaning and carry strong imageries (geopoetics), especially in the politically and aesthetically charged context of the "long 1960s" (1958-1974). California, the city of San Francisco and the Castro district, where Cleve Jones campaigned alongside Harvey Milk, are among these iconic "sites of memory". Other hotels, bars or bathhouses testify to the marginality of LGBT+ minorities in a structuralist perspective (geocriticism), which is even more perceptible when Jones depicts the outburst of AIDS and its clinics.

The San Francisco queer margins famously depicted by Carl Wittman (A Gay Manifesto, 1970) exist in opposition to "the mainstream" and its norms, which gives political and legal battles a critical importance in a time of opportunity as much as striking violence. Campaign headquarters, marches and university campuses seem to allow for critical encounters and mobilizations (literary geography) and many of these places stand out as heterotopias (Foucault, 1967), radical and replicable utopian sites for community experience and challenging the norm.

At a broader scale, some of Jones' mobilizations over the American road or foreign explorations offer refreshing perspectives on spatial studies as he witnesses unique transnational and generational dynamics connecting places through ideals and protest.
***
Domestic Delights of Roberto Burle Marx
at Santo Antônio da Bica's Estate


FREDERICO TEIXEIRA
FAU, University of São Paulo, Brazil
Flower arrangements and interior design by Roberto Burle Marx at Santo Antônio da Bica Estate around the 1960's, Barra de Guaratiba, Rio de Janeiro, Brazil. MOTTA, Flávio. GAUTHEROT, Marcel. Roberto Burle Marx e a nova visão da paisagem. São Paulo: Nobel, 1983.247 p., il. p.b. Color.
Over the past four decades, gender and sexuality scholars have highlighted the importance of public and commercial spaces in the formation of male homosexual encounters, social networks and identities. However, few have explored the parallel role of private spaces in promoting social and sexual relations between men.

This essay investigates the domestic life of brazilian landscape designer Roberto Burle Marx from the early 1970s until 1994, related to the acquisition of Sítio Santo Antônio da Bica (Estate) at Barra de Guaratiba in Rio de Janeiro (1949). In addition to serving as botanical and landscape experimentation laboratory (DOURADO, 2009), the Estate was thought as an 'ideal home', symbolically and functionally accommodating all needs of the designer (SCHLEE, 2020) and his partner César, with whom he made "culinary delights" and recurrent parties, in the combination of ingredients and in their presentation in colorful crockery on hand-painted tablecloths by Roberto himself, adorned with native plants.

As for the receptions at the Sítio, whether in the veranda of the main house or in the Cozinha de Pedra, we seek to look at Burle Marx's spatial appropriations and a possible non-aligned, or less expected, domesticity for time, bringing together the reports of the receptions and historical documents related to the history and materiality of the Site in question. Among the guests are the painter Alfredo Volpi, the composer Vinicius de Moraes, Pablo Neruda, Le Corbusier, Lucio Costa and Mercedes Sosa.

For that reason, the unveiling of the private sphere, explored through discussions in the field of domesticity (HEYNEN, 2005) on the life of Burle Marx, adds a new perspective to the study of his contributions to landscape architecture in Brazil and enriches the discourse on gender and sexuality in the history of architecture, revealing possibilities about the place as well as how Brazilian LGBTQIA+ heritage.

***
Archiving Queer Spaces in Berlin
using LiDAR and Virtual Reality

BENJAMIN BUSCH

www.studiobusch.com
Benjamin Busch, "Scanning the Horizon: An Immersive Archive", 2021. Virtual Reality still. Interactive website:

https://queerspaces.berlin


Alt Text: Colorful circular points of light float on a black background with varying density, sometimes amassing what appear to be the vibrantly lit surfaces of a bar or club. One can make out multicolor disco balls, seating booths, bar stools and tables, and a TV screen, with a cyan "Play" symbol hovering toward the back of the depicted space. Some viewers may recognize the Berlin darkroom bar Ficken 3000 in the image.
Queer spaces represent both a negation and an opening: they are spaces of necessity, of refuge, but they are also places for utopian projection, for performing how life could be and how, in many ways, it already is. Historically, queer spaces — bars, clubs, cafés, cinemas, community centers — have been overlooked as important sites worth memorializing as part of a common cultural heritage, resulting in the loss of memory and attendant difficulty regarding the past through archival materials. Only in the present is it possible to document these spaces in a self-determined way, to secure compelling materials that can be used in future retellings. Since 2021 I have, with my multi-part artistic project "Scanning the Horizon", documented 25 queer spaces and 6 monuments in Berlin using the digital imaging technique of professional spatial LiDAR scanning. Beyond photography, the resultant full-color point cloud scans serve to artistically render these queer spaces in new ways, including as a 3D interactive website and a VR experience. Working closely with the spaces, I have formed archival materials that preserve one facet of their complex life: the physical space, at a certain point in time, with all its collectively produced residues and signs of use. In this presentation, I will share the first part of my artwork and the process behind it, an interactive website that presents 3D scans alongside audio interviews, and I will also give a glimpse into the subsequent VR works. In these works, a certain agency is given to the viewer that mirrors the author's: the ability to inhabit both real and para-real positions in the virtual space, generating a productive form of dissociation that situates infrastructural regimes of computation in the body of the viewer, making tangible and calling into question the invisible alienation that saturates the everyday life of users.
---
10 January 2024
12pm EST/6pm CET
DocTalks x qswg
Session 3

Respodent: Chandra M. Laborde, UC Berkeley

Queer Ecological Architecture
LUCA LANA
Monash University (M.A.D.A) Australia


Fairy Pavilion, by Luca Lana
Owning to the pertinent challenges faced by climate change, the term 'queer ecology' has seen widespread usage across many fields of study and influenced creative practises. However, the field of queer ecology has yet to engage with architectural conversations or vice versa. To ally the interdisciplinary field of 'queer ecology' with place-making practices, this thesis asks how studying particular LGBTQI places can be a reference point for alternate occupation and practice types that dissolve human/nature dichotomies.

My research utilises embedded and participatory research of three queer places, Derrek Jarman's Prospect Cottage, a discreet yet long-running nude beach and queer commune Faerieland, to discuss long-standing practices of queer individuals and communities that are formed in response to not only social and political factors but crucially also environmental concerns. Each site supports an empirical and theoretical position on the relation of the queer body and the occupation and material practices, and each site is documented to inform a range of drawing and exhibition material.

It is suggested that this focused research on these sites and the associated project work extends and enriches 'queer ecology' into a paradigm for a mode of spatial and architectural working posited here as queer ecological architecture.
***

Dissenting Domesticities at Casa Samambaia:
Lota Macedo and Elizabeth Bishop
MARIANNA PARMANHANI
Universidade de São Paulo & Arquitetura Bicha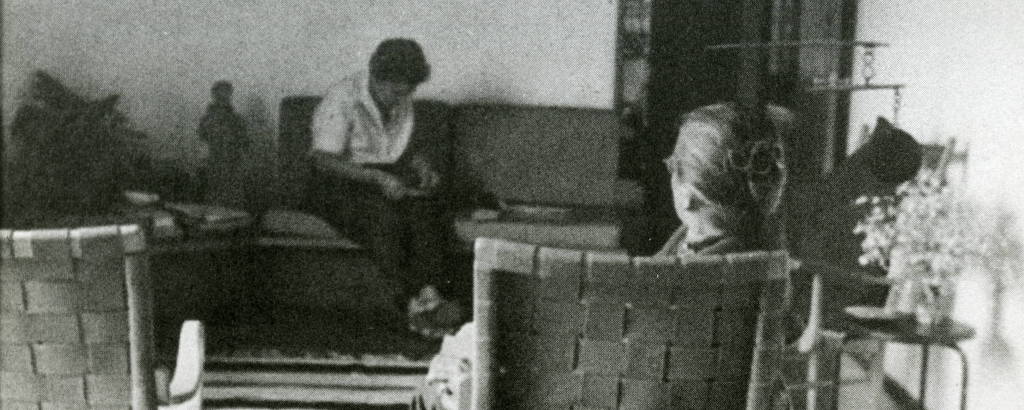 The Brazilian architect Lota Macedo and the American poet Elizabeth Bishop at the Samambaia house (Petrópolis-RJ, Brazil), where they lived together for a decade. On the couch, Bishop, and back to the camera, Lota. Photo by Rollie McKenna, 1954.

The project originates from the need to illuminate dissident domesticities while challenging normative interpretations within architectural historiography. Its objective is to investigate the Casa Samambaia (Petrópolis, RJ, Brazil), the residence where self-taught architect and urbanist Lota de Macedo Soares and American poet Elizabeth Bishop lived. This setting served as the backdrop for the affectionate relationship that blossomed between them. Noteworthy for being Brazil's pioneering metal construction dating back to the 1950s, the Casa Samambaia's combination of architectural tectonics and spatial organization earned its architect, Brazilian Sérgio Bernardes, an award at the II São Paulo Biennial, with a jury including luminaries such as Alvar Aalto and Walter Gropius. However, the primary focus lies in comprehending how both the house and the inhabitants' customs defy bourgeois heteronormativity. The residence becomes a space of subjectivity and affirmation for the two women who diverged from conventional paths during the 1950s. The research process involved analyzing primary sources, particularly letters penned by Elizabeth Bishop to her friends. These letters offer insight into the relationship shared between the two women, delving into their daily lives and the intricate connections formed within and through the Casa Samambaia. Additionally, the architectural project itself is scrutinized as a biographical testament of Lota, acknowledging her substantial contribution to both its conception and construction. The tectonics of the house, as well as its spatial organization, are studied in harmony with the evolved domestic habits and their symbolic connotations. This alignment underscores their affirmation of dissidence against bourgeois heteronormativity. This research endeavors to deepen our comprehension of the nexus between gender, sexuality, and architecture, emphasizing the vital role of investigating often-overlooked narratives within traditional historiography.

***
Graphite Gay Bars:
The Eliciting Potential of Drawing

RíAN KEARNEY
Bartlett School of Architecture, UCL
The Grosvenor House Hotel (1971-1984) drawn from memory. Courtesy of Alex, R Bates, Graham Beards, Caroline Hutton, Rían Kearney, and Ross.
Photo elicitation, the use of visual imagery to elicit comment, is a tool steadily employed in the field of oral historical research. With many photographs of historical LGBTQ+ venues lacking or buried in private archives, whose histories are rendered unelicited? Can drawings replace photographs? How might putting pencil to paper document not-yet-recorded spatial experiences?

Working one-to-one with those who created and used Birmingham, UK's historical LGBTQ+ venues, this research employs participatory drawing to co-produce an archive of now-demolished venues including bars, clubs, and community centres from 1966 to 1987, a period bracketed by liberation efforts and the ongoing AIDS epidemic.

In this paper, I argue that participatory drawing creates diagrams through which spatial characteristics are used to expand on personal and collective experience: a bar entryway and descriptions of struggles for women to gain entry; a 1970s club with adjoining hotel rooms where closeted trans women could get dressed on-site, forgoing the need to navigate public space. Reworking a formal tool of architectural communication, these informal drawings help to trace a multi-layered history of LGBTQ+ venues and how they are used and remembered in shared but conflicting ways.
---
16 January 2023
Lighting Talks


Respondent: TBD
Points Noirs
MILENA CHARBIT
Cergy Paris Université / École Nationale Supérieure d'Architecture de Versailles
DEBORAH FELDMAN
Laboratoire Architectue Anthropologie LAVUE
BAPTISTE POTIER
Architect
Carried out in conjunction with the City of Paris's waste management services, the Points Noirs study maps and analyses for the first time the recurring anomalies of cleanliness and illegal dumping sites in Paris. This research has enabled us to identify and classify 1,412 "black spots" spread across all the arrondissements of Paris. They reflect daily misuse as much as they reveal micro-spaces: nooks, crannies, urban or architectural incongruities, gables, blind walls...
Talking about black spots, showing them, evoking their consequences, the problems they raise and their history, is also a way of getting everyone to take an interest in the phenomenon and adapt their urban practices. There are several ways of describing black spots, since they are represented as much by their content as by their container, as much by the bulky object as by the urban form that accommodates it. These areas account for over 32% of the bulky items collected each year by our services, i.e. 34,596.40 tonnes of illegal dumping. The solution to the problem lies mainly in revealing these places, making visible what is invisible. Describing, quantifying and measuring these black spots means talking about the city and its metabolism. Over and above the census, the study focuses on specific cases, selected for their representativeness, their form, their administrative status or because local residents have shown an interest in them. "Points Noirs" proposes a new cartography of Paris through the prism of waste and through the eye of the person who criss-crosses the city on a daily basis to reveal these "crumbs of land" and define their potential for evolution.
In this talk we will discuss the results of this project and propose the adaptability of this research method in other places in France, and abroad. The relationship between the maintenance of the city, the people that maintain and the city itself. Mapping in collaboration with people who are not architects but have strong links to the urban blueprint through their personal practices is a way to understand and reveal new layers that are until then unknown places.


***
Navigating the what-what:
Southern approaches to South African urban design

JHONO BENNETT
The Bartlett UCL
Vanessa Watson's exposition highlights how Jean and John Comaroff's scholarship challenges the established Western framework of urban studies, aligning with the 'Southern Turn' advocated by sociologist Rachel Connell. This shift calls for alternative theoretical approaches that diverge from the dominant urban discourse, a view shared by contemporary Southern city scholars like Jennifer Robinson, who emphasize the need for broader insights beyond privileged cities, especially within neo-liberal and post-colonial contexts. In response, Southern theory has gained traction, extending beyond the 'global South.' This emphasizes the normative underpinnings of 'northern urban' or colonial city discourses, with the practical application of these concepts being as important as their conceptual content.
A vital link between decolonial scholars and proponents of Southern Theory is their acknowledgment of marginalized knowledge communities and the purposeful rearticulation of such knowledge. Gautam Bhan's exploration of Southern Urbanism highlights its role as a 'mode of theory building,' integrating research with practical applications in Southern cities. The 'a Southern paradigm' is envisioned as a dynamic, relational concept transcending fixed geographical boundaries. While the evolving discourse on Southern Urbanism eludes precise universal definition, scholars like Bhan provide insightful perspectives. For instance, Bhan's interpretation of Pieterse and Simone's view of Southern cities extends beyond viewing vulnerability solely through a developmental lens, fostering innovative approaches to urban development. Despite insights from Ola Uduku's work, the exploration of architecture and design-focused interpretations of Southern Urbanism remains relatively uncharted. This gap prompts a revaluation of the notion of urban design from a Southern standpoint, acknowledging peripheral dynamics, aligned with the call from Brazilian urbanist Tereisa Caldera for 'research with an accent.'
Considering these factors, this presentation aims to unpack these dynamics and outline the research inquiry's nature, proposing an additional, nuanced Southern perspective to the discourse of Urban Design. This will involve sharing the findings from own doctoral research as well as those from the Southern Urban Maintenance Corner Initiatives Reading/Doing Group and Reflective Seminar. These involved a critical examination of spatial agency, a reconsideration of northern perspectives, and an exploration of distinctive 'southern' paradigms in spatial design and maintenance.
***
Differential impacts of sea level rise
in Lagos' newly developed region
Eko Atlantic City
SHERRY AINE TE
Columbia GSAPP

Lagos, Nigeria, a significant financial center in Africa is contributing substantially to the continent's GDP. Recently, a new economic complex, Eko Atlantic, has been under development. Eko Atlantic aims to become an international commerce city, boasting modern environmental standards. The project extends adjacent to Lagos' established financial district, Victoria Island. However, it is essential to acknowledge the city's ongoing struggle with sea-level rise, further exacerbated by climate change. To analyze the development, a research approach incorporating literature review and Landsat satellite imagery spanning 19 years was employed, covering the area of Eko Atlantic's construction and surroundings. The analysis revealed evident inundation patterns and land clearing, raising concerns about the threat posed to Lagos' urban population. Moreover, the investigation into the development unveiled several controversies, including sea dredging and ocean surges, as well as the displacement of slum communities. These issues disproportionately affect different communities, with formal communities protected from sea-level rise and benefiting from the Eko Atlantic development, while informal communities bear the consequences of the adverse effects, compounded by existing socio-economic vulnerability. Ultimately, the development of Eko Atlantic has aggravated urban inequality in Lagos. This research delves deeper into these implications, drawing insights from Campbell's (2003) "The Development Conflict" and Harvey's (2007) concept of "Accumulation by Dispossession." By shedding light on the disparities between formal and informal communities, this study emphasizes the need for more inclusive and equitable urban development policies in Lagos. It underscores the urgency of addressing climate change-induced challenges, considering the socio-economic well-being of all residents. While the Eko Atlantic development holds the potential to bolster economic growth and international commerce, it also presents critical challenges related to climate change impacts, community displacement, and urban inequality. Understanding and addressing these issues are vital for creating a sustainable and prosperous future for Lagos and its diverse population.


---
23 January 2023
Lighting Talks
Respondent: TBD
Tracing Potential in Water
BLANCA GARCIA GARDELEGUI
Independent Researcher and Architect
Banyalbufar 1959. Josep Truyol. Apud Clara Caldes
Banyalbufar is a small secluded island village surrounded by the Balearic Tramuntana mountain range, a UNESCO World Heritage site, which due to climate change, is often suffering from severe droughts. Although partially unused today, in the 10th century it was inhabited and cultivated by the Islamic culture, who created a complex resource management system for irrigation with more than 2,000 terraces, fountains, aqueducts and cisterns, a body of knowledge acquired and adapted from their antecedent experience in Yemen. To build the many terraces, a complete circular construction system was developed reusing the stones that would impede the planting and using them as retaining walls. Dry connections were used to enable their further disassembly and reuse. The latter Christian conquest of the island in the 13th century, profited the system to give rise to dry farming practices focusing on olives, tomatoes and wine cultivations, creating a unique agricultural system today partially unused and with an extreme potential to be reused and repurposed. As the village has experienced in the last years a regrowth of the population with a younger generation moving back, the village school has reopened, the fishing coming back to life, and the local wine specie, Malvasia, which had disappeared in the 19th century due to different plages, has been reinserted and recultivated. Through a series of research workshops, we are exploring the architectural, infrastructural and urban heritage of Banyalbufar, as well as its potential future as a prototype for future sustainable circular communities which can be reactivated learning from their vernacular knowledge and traveling South to North. The research is realized in collaboration with Kosmos Architects, Isla and Guillem Aloy.
***
Vulnerable Heritage: the undeniable value of past craftsmanship in Romanian villages and the biodiversity-friendly architecture

MARIA NITULESCU
Independent Researcher, Artist and Curator
Copyright: Casa Maramureșană
While researching for my thesis about art and olfaction with a focus on the particular smell of hay in Transylvania, Romania, a region with one of the most biodiverse grasslands in Europe, I have found a direct correlation between topography, traditional land farming, and architecture.
Traditional low-intensity farming has died out in almost all European countries and, due to its scarcity, studies focusing on traditional land management and architecture are also rare. Romanian traditional houses have acquired their style in a mainly agricultural economy and in an excessive continental climate. The traditional village landscapes have undergone transformations due to socio-political and economic developments, which have led to irreversible losses in biodiversity, authenticity, and aesthetics. Traditional architecture is often undervalued and therefore becomes increasingly vulnerable in the current context, where modern comfort is preferred to traditional construction methods.
Surdesti, Şesuri, or Botiza are still places in Transylvania where biodiversity is well-preserved. These villages differ in topography: Botiza for example is situated in a valley and therefore contains defined zones for houses and gardens, wherein in Şesuri the houses are spread and harmoniously integrated into nature. The primary occupation of the locals is agriculture and animal breeding (most products are kept within the family). The original houses, which have a lifespan of 70 to 80 years, are traditionally constructed from wood, clay, and straw. Some of them have even been transformed into comfortable cottages. With a high thermal transfer coefficient, these homes have shown resistance to earthquakes without collapsing and often only with minor damage.1 The surrounding meadows and the grounds mow by hand, therefore you can still find a rare and protected flora with orchids, wild gladioli, and carnivorous plants, among others, and equally impressive is the fauna with brown bears, wolves, lynxes, otters, deer, and a large variety of rare birds such as hoopoes and orioles.

***
Veil Reveal
KSHITIJA MRUTHYUNJAYA
Independent Researcher and Architect
INGRID HALLAND
Architecture historian and art critic
Bottom: The whitest white: Interior of the titanium dioxide factory Kronos Titan AS, in Fredrikstad, Norway. Photo: Marte Johnslien, 2019. Top: A local street turned red from toxic iron oxide sludge leakage from the factory in Kollam, Kerala, India. Photo: Kshitija Mruthyunjaya, 2022

White is ubiquitous. It is conventionally associated with cleanliness and purity. However, its complex nature is less understood. We have somehow since the modern times perceived white spaces to be clean, comfortable and safe. When we sit or stand against a solid white white wall, write on a white piece of paper, brush our teeth with the stark white toothpaste, etc we rarely or mostly never think about how it is produced, its contents and its impacts if one were to zoom in on its hidden dimensions. The arrival of a white involves digging, modifying, reforming, rearranging, mining and so forth causing destructive divisions between humans and between humans and other-than-human forces.

Nowadays, synthetic white pigment like Titanium Dioxide (also known as TiO2, Titania, Pigment White 6) is widespread. Its rising demand in construction, automotives, textile, cosmetic and other industries as a dispersing agent, flocculent and most importantly as a whitening agent is spurring the demand worldwide. As the demand rises, its disconnected production networks have impacted the local ecosystems, causing grave geo-environmental problems, affecting socio-economic development and creating severe health threats in areas where it is produced.

Skondal, Norway

In 1910, a Norwegian chemist filed a patent for the production method for a pigment that aesthetically changed all modern surfaces. The white pigment TiO2, called "the whitest white," revolutionized the global color industry by bringing onto the market a pure white paint that resisted discoloration due to dirt and rust. After a hundred years of mining, the extraction of TiO2 has left an irreversible change in the local landscape in Sokndal, Norway. The environmental traces of mining modernism consist of a vast cut through the surface of the earth and a grey artificial desert of mining waste. Each year 13 million tons of ore are excavated in the open pit mine, which results in the land deposit growing by 2.7 million tons every year.

Kerala, India

Countries like India produce mammoth amounts of Titanium Dioxide to meet its annual demand with almost more than three quarters of the requirement fulfilled through imports from China. The pigment is mainly sourced from ilmenite, which is the most widespread titanium dioxide-bearing ore and its presence in certain parts of India have made these key production hubs for pigment white. In order to avoid imports, four key organizations developed around these key areas are aiding India to become self-sufficient. While on one hand India is trying to move towards self-sufficiency to meet the required demand of TiO2 by reducing imports, on the other, the extractive production methods causing build up of unfathomable levels of iron oxide, one of the by-products is causing grave geo-environmental problems. As per reports 2,00,000 metric tonnes of iron oxide sludge and 2,00,000 metric tonnes of ETP sludge has been generated since 1984-2008. Currently there is no safe process to dispose of the toxic iron oxide waste. It has impacted the surrounding and distant areas: wiping off villages, agriculture, animal husbandry, aquatic life, and has continually been a cause for health concerns among locals who live and work in the shadow of the TiO2 industry.

In order to rethink resource use and reuse, we need a radical change in the way we understand our material surroundings. How can we make visible what is hidden in the white pigment that surrounds us everyday? How can we create new narratives that understand the web of mutuality within production and consumption of the white pigment? This talk will explore how art history and arts-based methods can be used in thinking through white which does not lead to a nostalgia for cleanliness, purity and pristineness, but moves towards a future where white engages with its waste both materially and socially.

---
30 January 2024
Lighting Talks
Respondent: TBD
Designing Wellness:
Epidemics and the Shaping
of Modern Architecture in Iran
KAMYAR SALAVATI
PhD, University of Exeter
An illustration published in 1907 in a late Qajar periodical, proposing new layouts for Iranian neighborhoods to enhance their hygiene.
In the histories of modern architecture in the MENA region, including Iran, there is a strong inclination to perceive fundamental architectural shifts towards modernity as colonial, Western, and imitative. While these accounts certainly hold some truth, they often neglect the agency of Iranians and, in some cases, lack the nuance needed to appreciate differences in various contexts in the Global South region. During the 19th to mid-20th century, the issue of contagious diseases became a problem that led to the emergence of certain modern socio-political concepts. As argued by scholars, the introduction of modern concepts, such as the formulation of despotism and liberty, was partly based on the collective understanding of epidemics as a nationwide crisis. For my research project, I am exploring questions such as how the notion of "modern" as "healthy" architecture was defined and shaped in Iran. How were pre-modern architectural traditions categorized and demonized as the architecture of despotism, associated with filth, disease, and death? How did these understandings influence architectural practices until the mid-20th century? Can we reconsider some of the architectural efforts typically considered aesthetic or Western as attempts to promote hygiene in Iranian architecture? How was the role of women redefined as the domestic agents of the new "healthy" architecture? How did different readings of religion influence these efforts? How did new spatial layouts or landscape design contribute to these health concerns? In my talk, I will touch on some of these questions, echoed both in the theoretical debates and architectural practices from the mid-19th to mid-20th century in Iran.
***
TBA

ALIZÉ CARRÈRE
PhD, University of Miami
As climate change intensifies, architects and other design professionals are creating bold visions for future dwellings, such as green buildings, masterplanned eco-cities, and even planetary-scale sustainability measures. These climatopias, categorically different from ecological utopias of the past, are architectural and urban planning proposals for the built environment that seek to address climate adaptation and/or mitigation through new design, material, and sociopolitical processes. Even if never implemented, climatopias have inspired provocative thinking for the climate crisis, and they could transform systems that no longer serve the greater good. However, as with all utopian works, climatopias have the potential to do as much harm as good. Integrating research from architectural studies, utopian studies, and adaptation science, this paper defines the concept of climatopia and analyzes eight climatopia projects around the world for their effectiveness, justice, and feasibility. Our findings reveal that climatopias have the potential to support climate resilience in planning and design schemes for the built environment when they 1) employ design, construction, and material production processes that significantly lower a project's embodied carbon, 2) are affordable and involve residents in the design and implementation processes, and 3) are designed to be built and deployed today or are designed to provoke transformational thinking about potential climate solutions. To ignore these factors runs the risk of climatopias becoming yet another chapter of failed, if not harmful, utopian experiments in the built environment.

***
---
8 February 2024
Thursday
Usus, Fructus, Abusus
ALENA BETH RIEGER

Oslo School of Architecture and Design

Respondent: Adam Przywara, University of Fribourg
Roman law once controlled property by bestowing three rights upon its proprietors: usus, fructus, and abusus. But usus and fructus alone, the rights to use and profit from something, did not constitute ownership. In order to own something, one must have been able to destroy it.

Abusus was everywhere in mid-twentieth-century Brussels. Buildings were falling as fast as they were going up. A most-famous victim of this "Brusselization" was Maison du Peuple (1896-1899), the Belgian Labour Party Headquarters designed by the acclaimed Belgian architect Victor Horta. In 1963, protesters responded with outrage to the planned demolition of the building. In Venice, 1964, more than 700 architects signed a petition against its destruction. In 1965, Maison du Peuple was demolished, save the main banquet hall, the cafe, and a staircase which were marked, disassembled, and stored until plans for their use could be finalized. Most plans for reconstruction never materialized. Instead, the pieces of Maison du Peuple, totalling 130 tonnes of material, disappeared to disparate locations. Remnants of Horta's masterpiece laid dormant in the cellar of the Saint-Gilles town hall, the backyard of the Horta Museum, a cafe in the center of Antwerp, the Brussels Comic Strip Centre, and in an underground tram station at the corner of Chaussée de Waterloo and Rue du Lycée, Brussels. 70 tons of building elements were sold to a scrap dealer. Twelve truckloads were distributed to a museum and two municipalities. A number of stone and iron pieces simply sunk into the swamp-like field where they were stored. Countless elements were looted from open storage in vacant lots.

The international "ownership" of monuments was an emerging idea of the time and the Belgian public and an international congress of architects did not agree with the abusus of their treasured building. For DocTalks, I will discuss Maison du Peuple through the lens of its owners, rather than authors, to reconsider the role they played in shaping (and destroying) the architecture.
***
The "Frankenstein PC:" Practices of Preserving and Erasing the Digital in Architecture
JOSHUA SILVER

The University of Manchester, Manchester Architectural Research Group (MARG)

Respondent: Eliza Pertigkiozoglou, McGill University

Over the past decade, reflection upon the "Digital in Architecture" has set off a mad dash by architectural institutions, historians, and offices to preserve digital material for posterity. CAD drawings, 3D models, and even BIM assets have acquired a level of historical value necessitating the emergence of new archival preservation practices. Architectural archivists and historians are now confronted again with old media technologies and the necessity to make their contents accessible for dissemination and research. But these archival processes erase as much as they preserve, erasing the traces of digital technological practice in favour of content: drawings and images.

This paper, emerging from my current dissertation research which revisits the digital technological transformation of architectural practice since the 1980s, will discuss the pragmatics of architectural archiving through the private "living archive" of the Fondazione Renzo Piano (FRP). Simultaneously an office archive and personal-historical archive, the FRP will provide an opportunity to discuss the limits and opportunities of contemporary architectural archiving as a practice. This paper presents the technological practices of "refreshing" digital material for public dissemination through the old computing technologies collected in the "Frankenstein PC." These practices will be discussed through the kinds of information they erase and the potential new avenues of inquiry they open.
---
13 February 2023
---
20 February 2023
---
29 February 2024
12pm EST/6pm CET
DocTalks x qswg
Session 4

Evan Pavka, Daniel Ovalle Costal, Menghang Wu
Respondent: Qiran Shang, UPenn
Parallel Domesticities


EVAN PAVKA
Toronto Metropolitan University
The house of Frances Loring and Florence Wyle, Glenrose Avenue, north side, east of Mt. Pleasant Rd, 1952 (prior to addition). Photo by James Victor. Courtesy of Baldwin Collection of Canadiana, Toronto Public Library.
"The Girls" — Frances Loring and Florence Wyle — and "The Boys" — Charles Ashley and James B. Crippen — were friends and same-sex artistic pairs who played a significant role in the cultural milieu of Toronto, Canada in the first decades of the twentieth century. Well-known during their lifetimes, both remain largely marginalized and little discussed today, particularly in regard to their professional and personal allegiances with architecture. Neoclassical sculptors and portrait photographers respectively, both couples deployed the built environment to negotiate the social world of what was then a largely protestant, conservative metropolis.

For Loring and Wyle, the abandoned Deer Park Church at 110 Glenrose Avenue (at the northern edge of the growing city) became a key site for both work and life. Over the course of four decades, the artists transformed the structure into a highly publicized and visited home, studio and architectural oddity that was mapped onto their own. A block away, at 110 Inglewood Drive, Ashley and Crippen commissioned an unusual and austere residence by A.E. LePage, eschewing many conventions of its time. Alongside, a flagship photography studio and gallery was commissioned for a bustling site on Bloor Street West.

This presentation explores the role of both domestic architecture and the artist studio specifically as key sites for the masking and mediating of non-heterosexual life, casting both as integral in a subcultural archipelago. The parallel means of architectural patronage — construction and adaptation — are examined as distinctly queer approaches that sought to reinterpret, invert, recontextualize and appropriate heteronormative structures. Each approach is read against the specific artistic mediums of the couples, resulting studio environments, corresponding unconventional dwellings and distinct locations at the edge of Toronto — neither entirely urban nor rural — to reveal the manifold ways in which visible and public lives and spaces coexisted within the context of the city.

***

A Canon of Queer Domesticity: Design Fabulations


DANIEL OVALLE COSTAL
The Bartlett School of Architecture, UCL
Daniel Ovalle Costal, Disobedient Dollhouse, 2023, photograph by Sophie Percival.


My project explores the critical potential of architects' toolkits to re-design domesticity as a space of inclusion for sexual and gender diverse people. My work engages with the ongoing debate around homonormativity in queer studies and deploy a queer design toolkit to explore how the nuanced politics of the home are spatialised.

Scholarship on queer space has historically prioritised public and commercial spaces, from 'gaybourhoods' to night clubs. Domestic spaces have historically received less attention and have often been framed as sites of normalising power. This is despite the richness of feminist critiques of domesticity as a key agent in the construction and reproduction of gender and sexuality. Some scholars have since problematised this reading of home and argued for more nuanced understandings of domesticity.

My thesis takes a transdisciplinary approach to domesticity, acknowledging that a wide and diverse range of forms of knowledge is required to explore its nuances. This includes the design practice of dollhouse-making, rooted in architectural design methods but also in toy-making and other forms of craft; as well as qualitative research methods, developed in relation to queer critiques of ethnography.

My research uses co-design workshops with an aim to decentre the architect in the design process and re-situate them as a facilitator of participants' domestic utopias. Dollhouses will assist this process, facilitating design fabulations between participants and designer. This research situates fabulations as utopian constructions related to everyday experience, spaces, and rituals, thus surfing the binary between the quotidian and the fantastic. My thesis argues that dollhouses have the ability to project queer futures into everyday spaces, and explores the role of dollhouses as disobedient objects, which enable critiques of architecture's disciplinary conventions, and thus of the spaces and aesthetics of normative domesticity.

Ultimately, this project aims to develop a queer set of design methods that can be used to produce domestic prototypes to demonstrate new spatial, ethical, and aesthetic horizons for queer inclusive design.
***

Sex Objects and Performing Envelopment: Exploring Queer Spatial Fluidity in Dance Spaces through Nonhuman Mobility and Experimenting Relationalities


MENGHANG WU
Ohio State University, USA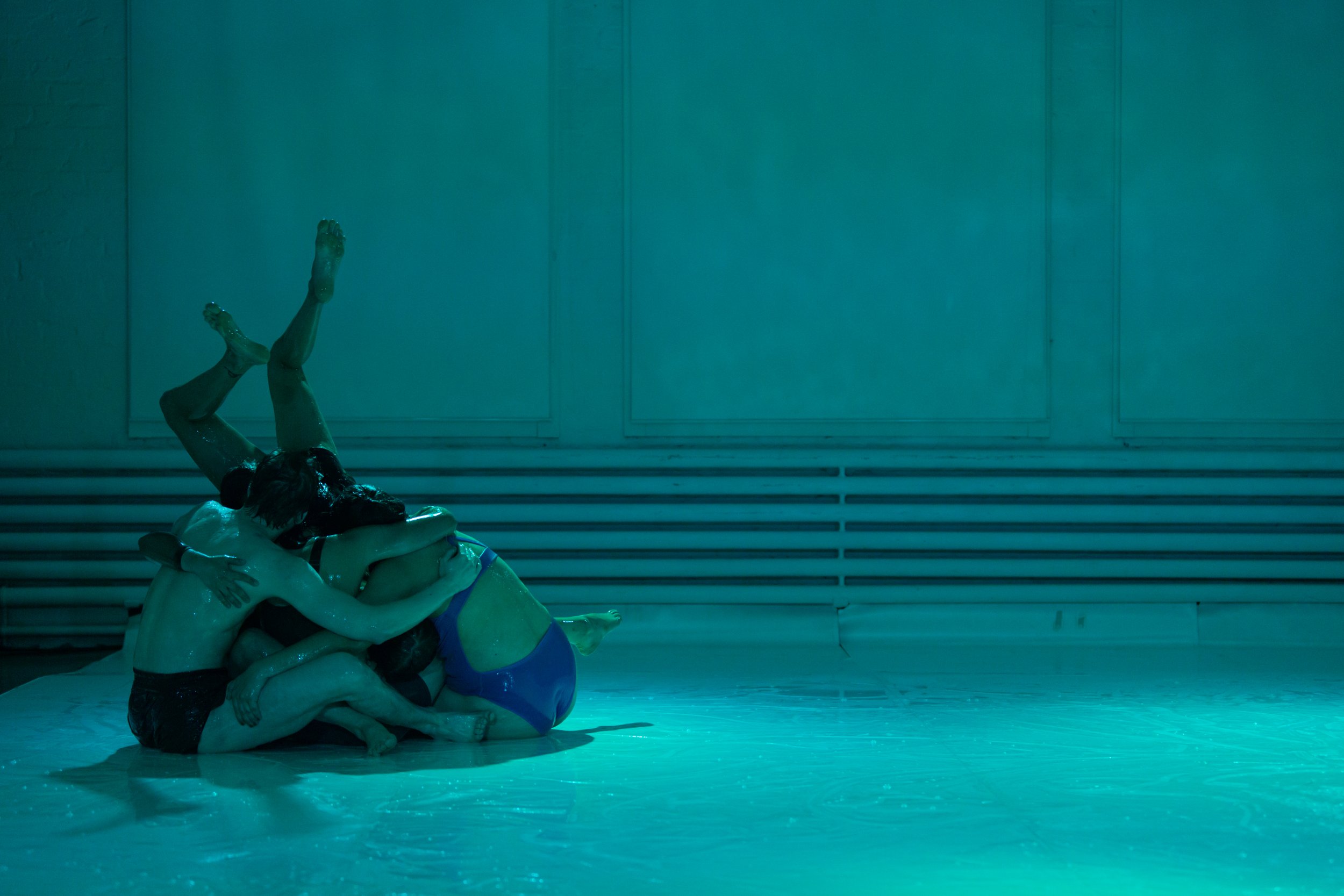 Fluids. 2018. Performed and produced by Finnish arts collective WAUHAUS and Estonian dance production house Sõltumatu Tantsu Lava (STL). Photo by Katri Naukkarinen.
This paper, constituting Chapter 3 of my dissertation, delves into the realm of queer spatial fluidity by examining the concept of performing objects. Focusing on the use of objects to transform the dance stage into a queer space for experimenting with relationalities, the study conducts movement analysis on the dance production Fluids and Lovers. My argument posits that sex objects in dance, such as lubricant and disco ball-shaped textures, provide nonhuman mobility, altering human movement models and challenging conventional anthropocentric perspectives in both dance and performance studies. Drawing on object-oriented philosophy, new materialism, dance studies, and queer performance theory, this research utilizes performance as a lens to intervene in our recognition of objects and space in the broader humanities.
---