An Inter-Institutional Platform
for PhDs, PostDocs and ECRs in
Architectural History and Theory,
Landscape and the City
---
REGULAR TALKS
PROGRAM SS 23

All the sessions take place on Tuesdays
4-6 PM CET, 10 AM-12 PM EST
unless specifically indicated
︎︎︎

ZOOM REGULAR TALKS
︎︎︎
Scroll down for talks in red
︎︎︎
---
DocTalks x MoMA
PROGRAM SS 23
︎︎︎please sign up on Eventbrite here︎︎︎
14 March
4-6 PM CET, 11-13 AM EST
Robin Hartanto Honggare and Hans Hortig
Resp: Will Davis

4 April
4-6 PM CET, 10-12 AM EST
Anneke Abhelakh and Alex Zivkovic
Resp: Tatiana Carbonell and Igor Ekštajn

26 April
4-6 PM CET, 10-12 AM EST
Sofia Nannini and Alberto Ortega Trejo
Resp: Rafico Ruiz

9 May
4-6 PM CET, 10-12 AM EST
Marianne Dhenin and Giulia Scotto
Resp: Nadi Abusaada and Ijlal Muzaffar

16 May
4-6 PM CET, 10-12 AM EST
Esra Nalbant and Marilena Mela
Resp: Sam Grinsell and Adam Jasper

30 May
4-6 PM CET, 10-12 AM EST
Jia Weng and Isabelle A. Tan
Resp: Ruo Jia and Samia Henni

13 June
4-6 PM CET, 10-12 AM EST
Martina Motta and Camila Medina
Resp: Giacomo Bonan

Scroll down for talks in green

︎︎︎
---
4 April 2023
DocTalks x MoMA


Oscillating Spaces:
The Ice grotto on the Furkastrasse

ANNEKE ABHELAKH
ETH/gta


Respondent: Tatiana Carbonell ETH/gta
Hotel Belvedere and opposite the bazar of the ice grotto, next to the Rhône Gletscher (1965)
The Furka pass road, set high in the Swiss Alps between the Canton of Uri and the Canton of Valais, was built in 1867 for strategic military reasons and is accessible roughly from the summer solstice to the autumnal equinox. The rest of the year the pass is closed off and isolated. We have to imagine a landscape covered with snow, the extended winter season that happens without human visitors. The Furka comes with these two tempi. The genesis of glaciology, the construction of the sublime, Alpine tourism all find their roots in this region. Famous writers, poets and artists dwelled here and produced new works inspired by the sublime beauty.
Hidden in the south-central part of the country, the journey to go there is scenic. The curvy road trip has views of glaciers, mountaintops, and forested areas. The train runs along the mountainside. The Furka Pass also takes you close to the Rhone Glacier, source of the Rhone river. In the season to visit, nowadays 250000 people, pass by like in a cortege on cycles or motorcycles, in private and often fast cars or in Alpine Post Buses. During the last little ice age (roughly 16th century till late 19th century) glaciers expanded. Rhone glacier in German is Rhône Gletscher, the little town at its tongue, is called Gletsch. The residents of Gletsch have kept records of the ice since 1602. The availability of farmland and the supply of water was controlled by where the glacier is.
The curved Hotel Belvedere (from 1869) sits next to the Rhone glacier. Its proprietors, who have been running it for four generations, also run the ice grotto, opposite of the hotel. This presentation will focus on the history of this gletscher and its ice grotto. At least since the 1830s at the mouth of the glacier on the right side, was a natural grotto. Since early 1880s, the door of the glacier is on the left side. The ice grotto is dug each year in May to be ready at the beginning of the tourist season.

***


Submerging Empire:
Water Infrastructures and Cement Grottoes
in French Aquariums
ALEX ZIVKOVIC
Columbia University


Respondent: Igor Ekštajn, Harvard
Saltwater aquarium at the 1867 Exposition Universelle in Paris.
Delannoy, "L'aquarium," published in Musée des familles: lectures de soir (June 1867).
Descending into a grotto, visitors to the 1867 and 1878 Expositions Universelles in Paris were treated to immersive aquarium installations. In contrast with many other fairground attractions like static panoramas or lifeless displays of goods, aquariums had to perform numerous feats of engineering attuned to the biological and ecological needs of living specimens. In nineteenth-century Paris, this management of fish and regulation of watery milieu required a concerted political effort by the parks administration under Adolphe Alphand. This talk will examine aquariums as a key proving ground for modern technologies—utilizing recently-built canals, ships, iron and glass construction, and cement grottoes.
Aquariums directly benefited from Second Empire infrastructures and new waterways. At the 1867 Exposition, the freshwater aquarium relied on Haussmann-era aqueducts and canals, while the saltwater aquarium received its water from military barges. In looking at the state's role in managing drinkable and undrinkable water in aquariums in both Paris and Algiers, I explore the politics of displaying water—now rendered unusable—within aquariums in two cities plagued by insufficient drinking water and waterborne epidemics. Cement grottoes performed similar managerial work by offering a vision of controlled, artificial nature inside aquariums and throughout public parks like the Buttes-Chaumont and the Bois de Boulogne. In manufacturing constructed caverns, Alphand and his collaborator, the rocailleur Eugène Combaz, modernized and secularized a Classical trope previously associated with nymphs and royal gardens—a new, soft-power imperial aesthetic then exported from Paris to parks in Egypt.
In excavating the techniques and technologies of aquariums, I explore an imperial bio-political project that showcased control over individual fish, fisheries, waterways, ecologies, and Paris's public spaces. Furthermore, by keeping fish alive and entertaining visitors in immersive spaces, organizers demonstrated the climate-controlling, world-building capacities of modern French engineering.


---
18 April 2023
Arrival Architectures

YONA CATRINA SCHREYER
Politecnico di Milano
Respondent: Alaa Dia, University of Basel
Construction of temporary container homes for refugees in Calais, picture by Henk Wildschut titled "Ville de Calais" – Monday, December 7th 2015, 12:07 pm Source: Knut Ebeling: "Architectures of Exception: Negative Heterotopias and Repositories of Frontiers," in: ARCH+ 239 Europa (July 2020), p. 226
Governments worldwide formulate design policies in an attempt to define the complex relationship between political programmes and the design of the built environment. In a rapidly changing, highly interconnected globalized world, those policies typically refer to architectural typologies affected by contemporary events such as increased migration or climatic hazards. Albeit the fact that many of those trends are far from new (take migration, a phenomenon as old as the history of humankind), it's the scale and speed in which they occur that pose unparalleled challenges for countries worldwide as they struggle to come up with architectural solutions to construct and regulate space.
Generally, public design manifestations mark a response to the wording of policies. Thus, their language can influence a country's architectural culture, oscillating between ethical, legislative, and regulative aspects. How states position themselves through spatial programmes can evolve and be prone to external factors as much as domestic strategies, adaptive to advancements and zeitgeist. Indications for spatial design as laid out by the state, then, may differ from or even contradict established practices or values of architecture and its protagonists.
The paper proposes to discuss the relation between decision makers and designers amid the typology of arrival architectures, structures commissioned by and constructed in 'countries of arrival' to welcome and accommodate refugees. As the migratory pressure rises, reception centres take form in mass accommodation of different size and shape. More and more states, particularly in the Northern hemisphere, seek to position themselves through pre-defined reception conditions: their design tools and manuals put the negotiation between political wants and physical needs into architectural language, suggesting their form. The paper's aim is to highlight common trends across the manuals, to contrast them with the built reality, and to try to understand the role of the architectural designer in the process.
***
Twenty-First Century Taylorism:
Architects, Management, and the Perpetuation
of the Open Office
PETRA SEITZ
Bartlett
Respondent: Hamish Lonergan, ETH Zurich
Contemporary technology company office interior (photo by Petra Seitz).

Where do you cry in an open office? At your cubicle? In the bathroom? In a special crying room? What does the answer to this question tell us about the relationships between space and our existence at work? These questions form the basis of inquiry to explore the relationships between commercial office interior architecture and the labor process in doctoral work at the Bartlett School of Architecture. This thesis (Where do you Cry in an Open Plan Office?) suggests that the history of the office is one of continuity, based on the repetition and repackaging of a single base design – the open office. Research further suggests that the open office design is rooted not in the specifics of work tasks, nor tied to the use of particular technologies, but instead is linked to the labor process itself – the way work and labor relations are, and must be, structured under capitalism.
The material in this talk comprises the third of three case studies in the dissertation, reevaluating and recharting the history and evolution (or non-evolution) of the commercial office. The 21st century case study presented in this talk represents the culmination of the unchanging history of the office, and a further rebranding of similar designs within different skins and logics.
Based on primary research from a well-respected technology company in the American Midwest which underwent a significant remodel of their office immediately before the Coronavirus pandemic, this lecture explores the processes leading to the design of 21st century office spaces.
The case study shows how networks of architectural commission and production perpetuate the assumptions (many of which have subsequently been proved inaccurate), plans and designs of the preceding era. These systems undertake spotty and self-supporting and self-referential research and which sidelines the needs, wants, and opinions of workers. Primary material collected includes interviews with corporate leadership, on-the-ground employees and architects. As well as corporate documents, including meeting minutes and planning-stage correspondence.
---
26 April 2023
DocTalks x MoMA

Respondent: Rafico Ruiz, CCA


Icelandic Farmhouses in the Homogenocene:
The Shift from Turf to Concrete (1895–1945)
SOFIA NANNINI
University of Bologna
Farmhouse in Arnarstapi, Snæfellsnes peninsula. Photo by Sofia Nannini, 2019.
This talk retraces the developments of Icelandic rural architecture in the first half of the twentieth century, with an eye to the progressive replacement of vernacular construction techniques with international building methods. In less than five decades, the almost timeless tradition of turf houses – stemming from the Middle Ages – eventually came to an end. The first generation of Icelandic engineers and architects promoted new building technologies: turf was replaced by concrete, and this building technique changed Icelandic architectural history for posterity. Despite some local peculiarities in the applications of concrete, by the mid-twentieth century Icelandic architecture fully entered an age we can define as "architectural Homogenocene", the era of homogeneous building methods applied at a global level. According to Barnabas Calder's interpretation of architectural history through its energy resources, the material transition occurring in Icelandic rural architecture can also be understood within an energy framework. The evolution of Icelandic farmhouses from turf to concrete is a clear example of how an energy system – that of fossil fuels, allowing more frequent travel, material exchange, and new building materials, especially Portland cement – was able to transform a thousand-year-old vernacular tradition at the northernmost tip of Europe. This research engages with a very special history of architecture: one of adaptation and tradition, scarcity of building materials and transfers of knowledge with Europe and the United States. The history of Icelandic farmhouses is intermixed with construction issues, nationalistic debates, and a quest for a much-needed modernization of the standards of living.

***


The Surveyor, The Diver, and The Stone
ALBERTO ORTEGA TREJO
University of Chicago

Sibyl Moholy-Nagy, Stone House, Otomi Region, Hidalgo Mexico, Courtesy of the Moholy-Nagy Foundation.
Between 1948 and 1952, acclaimed architectural critic and historian Sibyl Moholy-Nagy traveled to indigenous settlements in the US, Mexico and the Caribbean in order to catalog, analyze and bring visibility to the spatial production of anonymous builders in the Americas. With the results of this survey, Moholy-Nagy produced a book titled Native Genius in Anonymous Architecture, a kind of anti-modernist manifesto that delivers a critique on what she understood as the alienating dehumanization produced by modern architecture in American cities. In this book, published in 1957, ten years before Rudofsky's famous treatise Architecture Without Architects, Moholy-Nagy produced a primitivist reading of the spatial production of societies with scarce economic resources as an architectural ideal closer to an essentialist state of environmental coherence. This lecture excavates the archival traces produced by Sibyl Moholy-Nagy during her travels to Mexican Otomí indigenous territories for the making of Native Genius in Anonymous Architecture, the tangential history of the Otomí as laborers of Mexico City's sewage system and the intellectual imprint these travels left in Sibyl Moholy-Nagy's posterior works. Through a critical reading of Sibyl Moholy-Nagy's contributions to ecological thinking in architectural discourse, this lecture analyzes the production of environments as narrative and intellectual frameworks, and the mechanical production of artificial environments and hybridized bodies necessary for the construction of Mexico City's deep sewage system.
---
2 May 2023
Speaking of Architectural (Hi)Stories


MACARENA DE LA VEGA DE LEON
University of Melbourne

Respondent: TBA
The use of oral history as a method to rewrite histories of modern architecture has intensified lately with events, publications, and specific sessions at the annual events of scholarly societies. Characterised by a sense of urgency and transience, oral history has the potential to also expand the field of architectural historiography. This talk presents findings of a research project on oral histories of architectural history, not architecture; through interviews with architectural historians, not architects, initially conducted in Australia and New Zealand but to be replicated in and expanded to other contexts. While others focus on acknowledging the contribution of users, clients, and laborers in constructing alternative narratives of the built environment, I argue that there is also value in recording the stories told by architectural historians. Building on the investigation of the entangled subjectivities of the narrators who talk, the researcher who listens, and the audience and institutions who care about them, this presentation focusses precisely on the latter, on those who (will) write the histories of architecture in the future and their reception of these stories. Can the resulting intergenerational dialogue help overcome the institutional uncertainty of emerging scholars? Can it increase their sense of belonging to the discipline? By presenting fragments of the interviews to audiences beyond Australia and New Zealand, the aim is to reflect on whether the multiple meaningful interpretations of their stories can help navigate the current generational shift characterized by the urgency of social and climate crises. In the stories of established historians, emerging scholars may find hope.
***
How I love the place you have no idea: Poetic Language and Sensory Stimuli in the Arab Quarter of Alexandria
ALI REZA SHAHBAZIN
McGill University

Respondent: TBA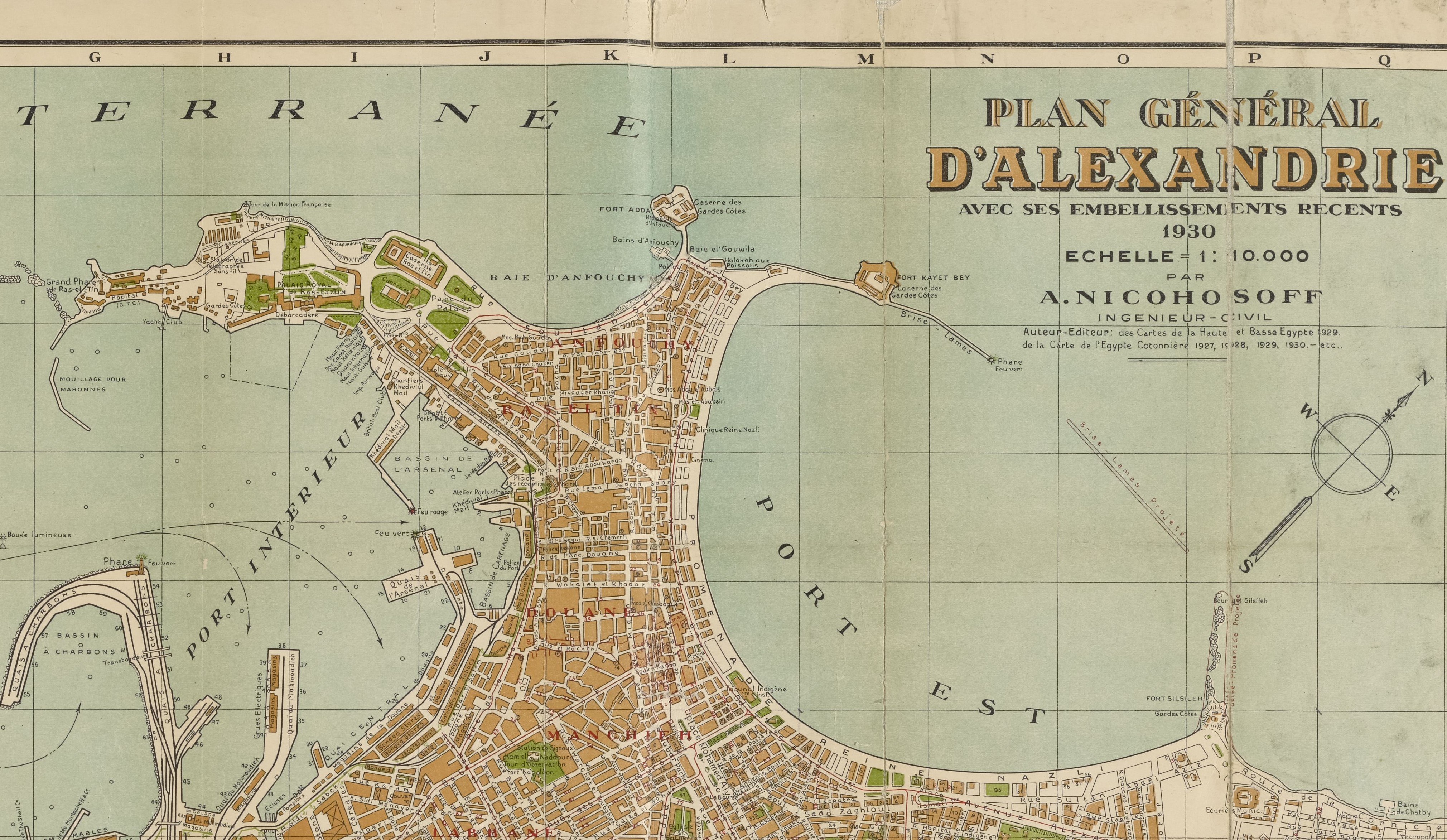 The plan of Arab quarter where the fictional British Lieutenant Jushua Scobie lived in
The Alexandria Quartet (
1956).
Nicoho Soff, "Plan Général D'Alexandrie " 1 :10.000, (Egypt : Carte de l'Egypte Cotonnière, 1930).
While it is difficult for architectural representations to reveal lived-in places through conventional means such as diagrams and maps, the language of literature can identify qualities of place, including mood, and atmosphere. Studying Lawrence Durrell's deep sensitivity towards place in his novel The Alexandria Quartet (1957) can help to better understand architectural context. Durrell's depiction of place is in line with phenomenological definition of place as a humanizing space given with language and narrative which is the theoretical framework of this study that investigates the Arab quarter in a novel.

The quarter emerges through a hermeneutical read of British Lieutenant, Joshua Scobie's urban experience. He is portrayed as a queer man, and a foreign inhabitant who feels at home as long-term resident of the neighborhood. The argument is that Scobie is not just a European sexual tourist with a homoerotic bond to place, but rather he has love for the Arab quarter as well. His topophilia arises from his active engagement with place, which gives him a sense of attunement. For Scobie, the architecture of the quarter emerges through olfactory aspects that reinforce embodied engagement. These sensory stimuli are intimately tied to poetic language. For instance, the smell of a bread in a street leads Scobie to be reflectively attentive to place and gives rise to poetic prose: "It smells like mother's lap!" Reflection in such moments shows how Scobie finds his place in the city based on senses expressed with language as a medium to define the quarter's character. Scobie's journey shows that dwelling occurs when architecture stimulates poetic emotions to embody a place with a sense of belonging.


---

9 May 2023
DocTalks x MoMA


Sanitary Architecture
and the Battle for the Urban Commons
in Modern Egypt
MARIANNE DHENIN
University of Basel


Respondent: Nadi Abusaada, ETH Zurich
"The Cholera in Egypt: Inhabitants of Boulak, Cairo, Crowding into Barges on the Nile."
Mounted Egyptian police stormed Bulaq on July 21, 1883, setting fire to homes and shepherding thousands of fleeing residents onto barges on the Nile River. A week earlier, cholera had settled into the marshy earth of the Cairo neighborhood and begun to tear through its narrow alleyways and makeshift huts, leaving hundreds dead. As the disease spread into wealthier districts to the north, the Egyptian Board of Health ordered the clearance of large swaths of Bulaq to disinfect the area. Following the epidemic, decrees were issued, giving sanitary authorities increased control over the built environment, establishing new standards for dwellings, and criminalizing the construction of slum areas like those cleared from Bulaq.
This paper explores the afterlives of these disease-driven interventions in the built environment, tracing their reverberations into modern Egypt. It draws on reports, correspondence, and memoirs of experts and administrators as they sought to reorder Egypt's slums. These sources reveal how colonial and Egyptian elites envisioned the future social and spatial order of the nation and its cities. The paper also reads the everyday resistance of the urban poor, recorded in the press, as alternate trajectories. Even as sanitary authorities characterized them as squatters and vectors of disease and sought to exclude them from new urban developments, those expelled from neighborhoods like Bulaq often returned and remade their homes. In doing so, they contested false necessities and imagined alternate futures.
Contextualizing its arguments within concurrent nation-building processes, interventions in infrastructure and the built environment, and developments in sanitary science, including shifting understandings of nature's role in fostering or preventing disease, this paper asks how competing visions of the modern advanced by Egypt's elites and its urban poor in the aftermath of the 1883 cholera epidemic have gnawed on Egyptian cities, leaving scars in their urban and social fabric.


***


ENI's Disegno Africano

GIULIA SCOTTO
USI, Accademia di Architettura di Mendrisio


Respondent: Ijlal Muzaffar, Rhode Island School of Design
Stazione di servizio Agip a Morogoro-Tanzania 196. Courtesy ENI historical archive.
In the early postcolonial era, the Italian national hydrocarbon agency ENI entered the oil market of 25 African countries. ENI's "paralle diplomacy" understood the decolonization of Africa as the right moment for Italy to re-ensure access to Africa's resources and emancipate itself from the "seven sisters" oil lobby. Through a "parallel" corporate diplomacy and the construction of material artefacts, ENI developed an incremental network of lines and nodes through which oil was transported, refined, and commercialized. This set of strategic infrastructural operations – often referred to as ENI's 'disegno Africano' – were depicted by ENI as the "missing infrastructures" able to spur development and real economic independence. But, in reality, pipelines, refineries, and gas stations materialized ENI's neo-colonial project. They suggested an oil-based modernity and a consumerist way of life and operated as outposts to conquer new territories, endangering environments and local populations. This paper interrogates ENI's infrastructural projects to achieve a deeper understanding of the unspoken territorial and social vision of the Italian company and offers an alternative to the official narrative of the pioneering and decolonizing mission proposed by ENI in Italy and abroad.
---
16 May 2023
DocTalks x MoMA


Nineteenth Century Ottoman Lighthouses:
Making of a Coastal Landscape

ESRA NALBANT
Binghamton University, NY

Respondent: Sam Grinsell, UCL Bartlett
Suez Canal entrance by H. Arnoux, Abdulhamid II collection
Between the late 1820s and the mid-1840s, maritime travel time had shrunk due to steamship technology, and the distance between coasts imploded. Due to this, the traffic over the oceans significantly intensified. A transformation on a such level required an infrastructural web of different types to support and facilitate this flow. Accordingly, to this process, the built environment of the shores changed radically, as the reflection of the intensifying maritime traffic manifested itself in the newly erected lighthouses, quays, and railroads connecting lands to ports. This work will discuss technological developments regarding steamships and lighthouses during the nineteenth century in the Ottoman realm with a specific focus on the career of Marius Michel. Lighthouse construction significantly increased as a global event since the need for navigational infrastructures to facilitate increased maritime traffic and provide links to connect oceanic highways to land. Marius Michel managed the lighthouse construction activities, first as the Director of the Ottoman Lighthouses Administration, then through the Michel et Collas company, which had the privilege of building and managing the lighthouses he founded. Lighthouses, as the concrete portion of the complex and multi-fragmented navigation operations, offer a fresh framework, which considers infrastructure construction in the Ottoman Empire for maritime transportation and trade during the nineteenth century on a global scale. This paper attempts to discuss technological developments regarding steamships and lighthouses in the Ottoman world together with the making of global connections during the nineteenth century. It aims to discuss the continuous position of oceans as space of maritime trade network and how that infrastructure network connects the land and sea during a transformative turn due to shifted material conditions and technological developments of the ninetieth century.

***

Learning with the Volcanoes:
Indigenous Cosmologies and Modern Epistemologies in the Aeolian Archipelago

MARILENA MELA
Vrije Universitet Amsterdam

Respondent: Adam Jasper, ETH Zürich
Houel, Jean. 1996 (1782). Viaggio Pittoresco Alle Isole Eolie. Translated by R. Cincotta. Pungitopo

The volcanic Aeolian archipelago, off the North Coast of Sicily consists of seven inhabited islands. Throughout history, theses volcanoes have been approached as material resources, supernatural entities, and objects for protection. From a Braudelian perspective, human life in the islands has been shaped by volcanoes, in terms of subsistence activities, like mining, building, trade, agriculture, and tourism, but also narratives, traditions, and cultural attitudes. Interpretations brought from outside the islands interweave with beliefs born within. To this day, inhabitants of Stromboli personify the volcano, calling it Iddu- him. He is unpredictable: he brings fertility to the soil, but can cause death and damage. Homer referred to the islands as the headquarters of Aeolus; roman authors described them as the workshop of Hephaestus; and for medieval travelogues, their craters were the entrance to hell. The rationalization of environmental knowledge in the 19th century brought scientific attention from geologists and vulcanologists, leading ultimately to the nomination of the archipelago as a UNESCO natural world heritage site.
This presentation corresponds to one of the chapters of my dissertation, and is a work in progress. Drawing on travelogues, scientific papers, policy documents, landscape observation, and interviews, I discuss how modern and premodern epistemologies relate to contemporary issues of landscape governance, rights, and stewardship. In what ways (if at all) do indigenous cosmologies and situated knowledges about the landscape survive? What impact does the dominance of universal systems of thought (the recognition of the scientific value of the volcanoes, their aestheticization and their view as a world heritage property) have for local communities? Can we imagine a sustainable cohabitation of humans and non-humans, in the era of globalized neoliberalism and climate crisis, when the islands are peripheralized, their territory largely abandoned, and the livelihoods of islanders almost entirely dependent on tourism? This talk will touch upon episodes of interaction between humans and the volcanoes and will seek to understand their impact for present and future landscape making.

---
23 May 2023
Urban Conditions on Display
The Case of the Architecture Exhibition Homeward, Contemporary Architecture
in Flanders (1999–2001)
ALICE HADDAD
Ghent University


Respondent: Véronique Patteeuw, ENSAPL/EPFL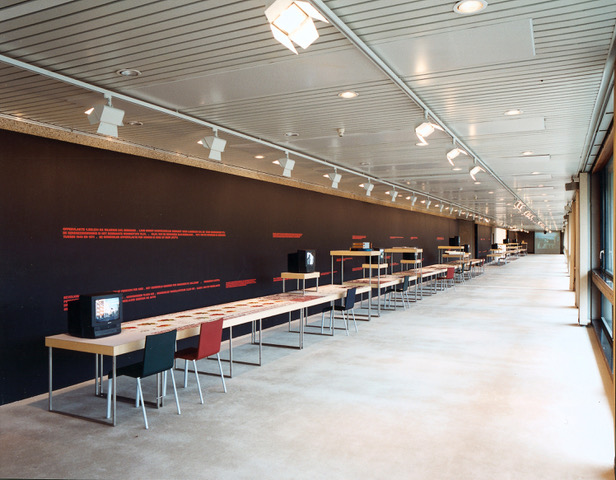 View of the exhibition Homeward – Contemporary Architecture in Flanders installed at the arts centre and campus deSingel in Antwerp from 07 November 2000 to 17 December 2000. © CC BY-SA 4.0 deSingel 2000
My research departs from the following interrogations: How have architecture exhibitions contributed to broadening the conception of architecture as independent buildings erected in an environment to productions of and ideas about living in environments? What contexts, narratives, practices, and representations did they convey?
This presentation focuses on the thematic exhibition Homeward – Contemporary Architecture in Flanders, curated by Maarten Delbeke, Steven Jacobs, and Katrien Vandermarliere. It was commissioned by the Flemish government and served as a platform to promote contemporary Flemish architecture in Flanders and abroad. As such, it travelled to Grenoble, Rome, Venice, Antwerp, and Plymouth between 1999 and 2001. The curators intended to formulate a new discourse on contemporary architecture and urban conditions through a selection of nine buildings and an urban design project. The display of these works specifically highlighted their interactions with their surroundings. Framing them as non-autonomous agents in everyday settings called for the arrangement of resourceful artefacts. Particularly topical at the time were the documentary films, data visualisations, and aerial views exhibited as means to direct the attention towards a reflection on the occupation of the Flemish territory. To understand how spatial environments were (re)presented in Homeward, its curatorial narrative and assemblage are examined in connection with the contextual and operational aspects of the exhibition's media apparatus. Homeward's narrative was articulated through the creation of a modular, multimodal, and intermedial site that supported its translation into an aesthetic and cognitive experience. Intermedial tensions are therefore disentangled to show how the exhibition's functions of mediatisation and mediation were determined by local developments, the curators' intentions, the exhibition's production process, and its destination to various locations and publics. Research into the interplay of contexts and media in Homeward's exhibition apparatus unveils the inseparable relationships that existed between institutions, stakeholders, sites, medium, and message at the turn of the millennium.
***
Approximations of Elements and Systems
The Element as a Project

LERA SAMOVICH
Porto University


Respondent: Marina Montresor, ETH Zurich
This research is an attempt to name a sensibility, draw its contours and recount its history. It studies elements of architecture that carry out more than one action and combine seemingly antagonistic meanings, elements that are both monumental and fragile, both rational and questioning. It tries to divest meaning from it, to evaluate, to understand, compare, contextualise, historicise it, to use it as a lens to get a better understanding of contemporary practices and offer new readings of built environment.
Diagonal walls, cut-off columns, misplaced doors and exaggerated windows are studied separately from the rest of the project. Such elements, when segregated from the whole, become autonomous fragments with light of their own, an independent and accidental history. The project then is an essay on the convoluted relationship and the conflict within and between miscellaneous elements which were not imported to but emerged from within the building. This research lingers through those moments when one finds oneself fascinated by elements, taking them as clues to approach architecture. These elements constitute a micro-architecture of sorts. Each of them surpasses and transgresses the original to become a better version of it: a remade, reinterpreted or applied version of the original.
My interest in these elements is not with their purely figurative usage, but with their role in the discovery of space. It gestures toward the strange ability of ordinary elements to exceed their status as objects and to manifest traces of independence and aliveness. It looks at how these elements can become vibrant objects with a certain effectivity of their own, a perhaps small but irreducible degree of independence from the whole. Is it possible to recognise this vibrance? After all, this research defends the naive ambition of these vital elements. It offers an alternative way of encountering architecture. They become actants rather than objects: these are elements that possess a certain power of action.
---
30 May 2023
DocTalks x MoMA

Interiors Turning Off and On
Environment Valves, Air-borne Architecture,
and Special Economic Zones in China,
1979–1989

JIA WENG
Yale University

Respondent: Ruo Jia, Pratt Institute & Harvard University
China International Trade Center, Thomas T. K . Zung and Shoji Sadao, 1986–1989. From Thomas T. K. Zung, ed., Buckminster Fuller: Anthology for the Millennium, (Carbondale, Illinois: Southern Illinois University Press, 2014).
Although Buckminster Fuller's work has been studied extensively, scholars have rarely examined how his ecological thoughts operated as they traveled outside the Euro-American context. This paper follows Fuller's ecological projects to China's Economic Zones. Connected to the global economy through transportation, telecommunication, and environmental control infrastructures, SEZs are enclaves with relaxed labor, environmental, and trade regulations dedicated to promoting export. As the authority of the Shekou Industrial Zone, the first SEZ in China struggled to provide built environments for Foreign Direct Investment. They contacted Fuller for design studies of floating cities and geodesic domes. Situating these projects against Fuller's broader theoretical account of ecology and world economy, this paper investigates how concepts like environmental valves and airborne economy materialized through the infrastructural developments in Shekou. Fuller's idea of turning architecture into subscribable environmental services turning off and on like valves and his celebration of airborne transportation technologies that communicate and deposit economic regimes around the world indicate a planetary interior catered toward the privileged neoliberal subject—or World Man, to use Fuller's term. In explaining and unpacking why both the Chinese SEZ authorities and Fuller, coming from opposite camps in the Cold War, shared mutual political and economic goals, I argue that Fuller's information-driven project of ecological redesign was a neoliberal one from its inception. It inherited, even if inadvertently, the mechanism of control and conquest from colonialism. The alignment between Fuller and China was only based on misunderstandings. The tension between sovereignty and property, ecology and economy, individualism and collectivism, contained by the zones, culminated in political upheavals in the late 1980s, eventually concluding Fuller's collaboration with the SEZs, leaving projects—such as China International Trade China—forever on paper.


***

Deserts, Reclaimed:
On China, Territory, Agriculture
and Geopolitics

ISABELLE A. TAN
Princeton University
Respondent: Samia Henni, Cornell University
Frame taken from footage panning left to right, first showing young crops grown through flooded irrigation and then an arid grassland, Army's Reclamation and Battle Song (1965)
In 1965 a Chinese state-run film studio released a documentary Army's Reclamation and Battle Song (军垦战歌) dedicated to the work of the Xinjiang Production and Construction Corps (新疆生产建设兵团) in the autonomous region. The Corps modeled a means and mechanism for shaping agricultural subjects and the "desert" for a new socialist state. This paper analyses the documentary to consider the emergence of an agricultural-military-communication complex specific to Chinese political ecology in the 1950s and 60s. Like most state-produced media of the period, Army's Reclamation and Battle Song coerces labor, subjectivity, and environment into legibility as a condition of Maoist ideology. Individual persons and their landscapes bear the burden of this representation. In this optics of visibility, both are forced to stand-in for abstract "socialist" and modernist promises constituted by facile binaries between marginal and fertile soils, revolutionary and backward forces, the interior and the periphery, and the rural and urban. In this writing, I offer a wayward way of witnessing the relations of Han Chinese and Uyghur, Kazakh, and Turkic people and the built environments they inhabit. This method excavates the actual agricultural practices and techniques seen in the film to unsettle the propagandistic camouflage or trope of tree-plating or greening (绿化) through which settler logics of Sinification are generally understood. I occupy the gap between material beings and bodies and their representations to recover revolutionary possibility while attending to the persistent wounds subjecting human and non-human agency to the same degraded condition, always to be reclaimed.
---
6 June 2023
State Segregationist Strategies to Control Urban Informality within Brasilia's Ideal of Modernity


LUISA G. MELO
Tulane University

Respondent: Ciro Miguel, ETH/gta
Unpaved street in Taguatinga. Public Archive of the Brazilian Federal District (1966), Unknown author.
This paper looks at the prominent role urban informality played in the materialization of the idea of the new Brazilian capital, Brasilia. I pay special attention to how the Brazilian government advances its discourse of modern national identity using architectural tools – designing and building a new capital – to "improve" the physical environment with the promise to fix social problems. I look at two different settlements outside of the planned city center, called Plano Piloto, which were officially created before the capital's inauguration in 1960: 1) the "provisional settlement" known as Cidade Livre, and 2) the first "permanent settlement" called Taguatinga. These two cases show the different forms the government used to protect the original plan's purity and control the informal housing that exploded around the construction sites. I argue that the creation of satellite cities outside of the geographic delimitation "faixa sanitaria'' is a segregationist strategy, part of the bigger plan for the new capital and a prominent part of the Brazilian modernist agenda. The urban-modernist aspiration for a utopic mestizo class-less society does not account for the reality of the class-racial gap experienced by people living outside of the Plano Piloto. The spatial order, architectural materials, and aesthetic differences between Costa's plan and the satellite cities reveal such disparity. I analyze the official discourse of both politicians and architects to see how the modern proposed goals dealt with the housing shortage for construction workers. I use primary sources such as the political speeches of Kubitcheck and Niemeyer, Lucio Costa's original plan for Brasilia, testimonials of workers (registered in text and video), the official magazine "Brasilia" published by the state construction company, and pictures of Taguatinga and Cidade Livre from the Public Archive of the Brazilian Federal District.
***
Architectural History
or History of Property?

SONALI DHANPAL
IHR / UoL

Respondent: Nitin Bathla, ETH
Bangalore in this rare 1912 map shows the large-scale suburbanisation of the late 19th century in the city. Source: India Officer Records, British Library.
That the 'touchability line' could not be permeated by those castes classed 'untouchables' in South Asia is well known. But how did this line manifest across the colonial city, the product of 20th-century capitalist modernity? This paper explores the drawing of this spatial demarcation of caste through the bungalow in Bangalore at the turn of the 20th century. Setting aside dominant histories of the bungalow as the quintessential product of a global culture, co-produced by localisation, I show its proliferation as that of the naturalisation of real property. The making of property introduced a racial regime of ownership. Examining this regime in Bangalore, I reveal how caste elites who previously had a virtual monopoly over land and public resources, mobilised newly introduced legal systems to monopolise property.
Property born as real estate in Bangalore's residential schemes had little value without housing on it. It is here the colonial government insisted upon a detached house set in a compound-the bungalow- to be deployed across the city through specifications and byelaws. If what makes a bungalow distinct from other house types is that it sits within a compound and not its form that went through continuous formal and semantic transformations, I contend that the bungalow's ubiquity represents the proliferation of private property. Through seemingly quotidian legal judgements of petty officials on land expropriation, I reveal a shadow legal system where decisions over inheritance to land and housing were accrued through 'precedent' to reproduce upper-caste domination and Dalit sub-ordination. Examining claims to property, I show how the writing of architectural history through the history of property enables us to uncover for whom and how the touchability line was made impermeable.
---

13 June 2023
DocTalks x MoMA

Respondent: Giacomo Bonan, Università di Torino


The Eighteenth-Century
Teatro Regio in Turin
A Forest Perspective
MARTINA MOTTA
Politecnico di Torino
Henri Louis Duhamel du Monceau, De l'exploitation des bois, ou, Moyens de tirer un parti avantageux des taillis, demi-futaies et hautes-futaies, et d'en faire une juste estimation, Paris 1764-

When we talk about Teatro Regio in Turin, we immediately think of the 1970s building renovation by modern architect Carlo Mollino: a sudden fire destroyed the eighteenth-century building in 1936. Designed by the First Royal Architect Benedetto Alfieri, the original theatre boasted a comparable avant-garde project. Indeed, the theater's main hall was built with an extraordinary capacity for the time, responding to innovative visual and hearing solutions. The Teatro Regio became therefore a paradigm in the context of contemporary European theatrical achievements.
The historiographical research, however, has mostly focuses on the architectural artefact. If we do investigate where the carpentry's timber came from, the history of the architecture expands beyond the time of construction and brings out new points of view. How did a forest work in the eighteenth century? What kind of manpower was required? How had centuries-old knowledge around the forest changed? Which human and non-human species were affected by the logging? Which local communities' forms of resistance against the process of extraction?
Studying architecture through a forest perspective bears witness the events of construction to being intertwined with the natural environment and its exploitation, revealing a history of architecture that cannot be separated from the environmental one.

***


Unimprovable Regularities
The Araucaria Araucana Tree
in the Victorian Garden
CAMILA MEDINA
LUS/ETH


The Araucaria araucana tree (also called Pehuén or Monkey Puzzle) only grows naturally in the Andean slopes of southern Chile and Argentina and in the Coastal Range of Chile. It is admired for its height (up to 50 meters) and longevity (up to a thousand years) and is deeply tied to the Mapuche-Pehuenche indigenous culture. It was declared a Natural Monument in Chile in 1976 and 1990 and is informally recognized as a national symbol. For their part, Europeans, especially the British, perceives it as a usual (and sometimes old-fashioned) species from old parks and suburban gardens. Unlike other imperial transplantations, the Araucaria araucana was imported into Great Britain for ornamental use. By following a specific species, the research offers tangible —complex and sometimes ordinary but not less important— evidence of broader processes related to the domestic scale of imperialism, the nursery market, gardeners, and scientist practice and language, among others. In other words, this research is not about the Araucaria araucana itself but its displacement as evidence of a broader dialogue between gardening, science, and coloniality.
Specifically, this presentation will focus on 19th-century illustrations. Drawings, paintings, and engravings, among others, as methods of visualization of nature, were essential for constructing and disseminating knowledge during the eighteenth and nineteenth centuries. The production of plant illustrations not only facilitated their recognition and classification but also their distinction for potential use. In this context, the presentation focuses on the Araucaria araucana species and its appearance in British publications. In this instance, we will center on John Claudius Loudon's Arboretum et Fruticetum Britannicum (1844). The aim is to illuminate the historical understanding of exotic tree species in the English garden, to visualize the influence of scientific language and methodology on gardening, and to open the reflection on the relationship between ornament and science and their role in plant migration.
---
20 June 2023
Architecture Culture
in Socialist Yugoslavia:

Exploring the role of
Kosovo's School of
Architecture during 1978-1991
QËNDRESA AJETI
TU Munchen

Respondent: TBA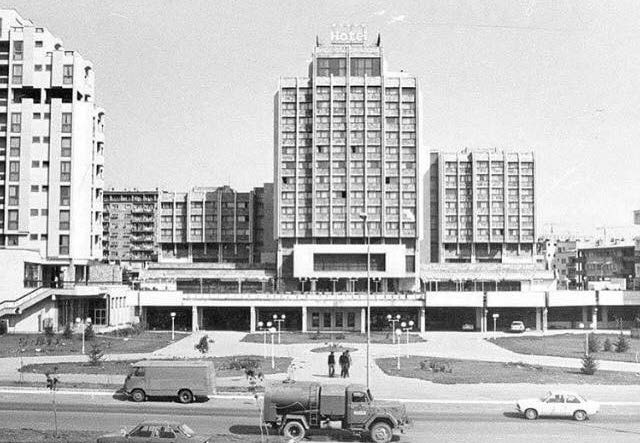 The post WWII period affected Europe's map, as borders were redrawn, Kosovo, case study of this research, became an autonomous province of Serbia in the Socialist Federal Republic of Yugoslavia (S.F.R.Y.) in 1945. The Socialist Federal Republic of Yugoslavia represented a political system with multilinguality and multi ethnicity that contained six countries and two provinces within. After 1945 it was a demanding process of reconstruction of cities, using new building technologies, affordable housing initiatives, which laid the need of more professionals in architecture and engineering. The system focused in founding the architecture schools in each country part of the system that did not have it till 1946.
This research aims to explore an important period in architectural history in Kosovo, that enabled the first generations of architects in Kosovo, educated within the school of Architecture in Prishtina. It will be focused in a specific timeframe, specifically from 1978
when Kosovo founded the first and only school of Architecture within the University of Prishtina, until 1991 when the education system went through many difficulties because of the political crises of the system. It will introduce the role the academic institution had in shaping
knowledge for the future professionals.
The contribution of this research is to fill a gap in the architectural history of Socialist Yugoslavia though a histography of architectural education, by exploring the architecture culture under centralized state, among other actors. Furthermore, to introduce the role the academic institution had in shaping knowledge for the future architecture professionals.
The period of Socialism-Modernism represents an enormous urban, architectural and social history layer of Kosovo that definitely needs further research in particular in the educational discourse to create the whole picture of its reflection of the political system, social culture and
its correlation toward the architectural culture in Socialist Yugoslavia in general.
***
The Emergence of Governmentality
of Housing in Iran


FATEMEH TAVANAEI MARVI
Shahid Beheshti University, Tehran, Iran

Respondent: Farbod Afshar Bakeshloo, UCL
In most architectural and urban histories in Iran, modernization is typically explained as the transformation of the organic, introverted city fabric to a city with a grid layout and extroverted buildings. These narratives give much weight to factors such as Iran's expanding relations with the west and imitating western architecture while overlooking the practical aspects and requirements of such a transition. However, for social transitions to be stabilized they need to be supported by social structures. Law, as a powerful social structure, played a significant role in formation of the new type of housing in Iran and thus the development of the modern city fabric.
My research aims to explore the relationship between the government and housing by explaining the emergence of law regarding private buildings and properties and the objective conditions that made that law possible. In the 'Building Regulations" law approved in 1321 S./ 1921, lot coverage limitation appears for the first time as a subject of the Iranian government's authority in determining the relationship between a building and its surroundings. To explain this relationship, I will draw upon Foucault's view on power relations and specifically his concept of "governmentality". The analysis of governmentality is the exploration of a field of knowledge, deeply embedded in the social, cultural, and political mechanisms; and the deemed underlying truth which is the driving force behind such mechanisms.
I need to narrow down my topic to make it possible to explain the
supporting knowledge behind 1921 Law amongst infinite body of knowledge and choose the mechanisms that convinced the lawmakers of the possibility of its implementation amongst variety of hierarchical bureaucratic system in emerging modern state in Iran. In this presentation, I will explain the strategies I applied to narrow down my research questions.
---
27 June 2023
Fractures of Urban Accessibility.
Hacking as an Instrument for Decoding
the Smart City in the Age of Big Data

LAURA NICA
University of Westminster
Respondent: TBA
Our cities are on the verge of a radical transformation, a revolution in intelligence comparable in scale to the one that, in its time, brought about industrialisation1. Countless chips and sensors that allow the objects and vehicles to be located, consumption levels and temperature to be recorded, pollution levels, population densities and flows to be measured, are recreating our cities as immense data sets. This new urban patterning appears resolved in the model of the Smart City2. Yet, as the city becomes increasingly hybrid, the danger increases; the shift from a world structured by boundaries and enclosures to a world increasingly dominated, at every scale, by connections, networks and flows, the cyberspace becomes a space dominated by data control and information values. In this instance, planners, policy experts and economists are no longer the only specialists responding to these challenges. New actors enter the stage of urbanism and raise new questions. How is data accessed, filtered and used? What can exist between 0 and 1, a pixel and its neighbour, 'normal' and 'abnormal'3? Who defines who is seeing what and who establishes the end uses of data extracted from our cities?
This paper investigates the means, the significance and the potentials of data accessibility in tomorrow's
urban environments. In an attempt to understand the vulnerabilities over the model of the Smart Cities and the lack of feedback that goes back to the citizen, the work proposes a re-think of knowledge openness policies and data commons currently available to restricted users. Firstly, the relationship between politics and digital technology will be introduced and explored, looking at issues such as algorithmic governmentality, the role of technology and code in managing the patterns obtained from the Sentient City.
The following section will provide an approach to two different examples of projects, focusing on hacking as a critical solution for representing new ways of decoding the city, of 'opening up' the uncertainty, irrigating alternative readings and capturing hidden layers. The paper ends with an exploration of the potential value of hacking and challenges of the future crafting of algorithmic power.
***
Incorporating Geotagging and Its Semantics
in Landscape Analysis.
Textual Analysis of Urban Data through Social Media in the Neighbourhood
of "El Raval" in Barcelona

ELENI OUREILIDOU
Aristotle University of Thessaloniki

Respodent: TBA
Tool for a semantic tag-text analysis.
In the post-digital landscape, geotagging is suggested to read the landscape as a text and to enrich the semantic layer of urban space. The appropriation of urban landscape is studied here under the scope of a dialectic between landscape architecture, programming, and technology. In that sense, geotagging would reveal collective reflections towards urban places, opening to an examination of novel applications and methodologies. These include Visual Ethnography, as introduced by Sarah Pink (2012), and Ethnocomputation, as introduced by Tedre et al. (2006). Based on that, big data landscapes and social media platforms enable new differentiated structures and models for the representation of information, opening new ways of manipulating organised information, such as the recommendation algorithms. Hence, the research suggests a visual analysis of geotagged information and the configuration of a training set for the selection of narrative artefacts from social media platforms as texts for the city. The methodology focuses on "el Raval", a neighbourhood in Barcelona, where the "myth of el barrio Chino" framed the neighbourhood's cultural and social fabric in the 20th century. In the end, categories of narrativity are suggested in the form of tags, like #barriochino and other sensorial and imaginary georeferenced annotations, to mediate social routines and dynamics captured by users at the level of the street.

---