1 March 2022
Urbanism in Tehran:
From Sacred to Radical

ASMA MEHAN
Leiden University


Respondent: Niloofar Rasooli (gta, ETH Zurich)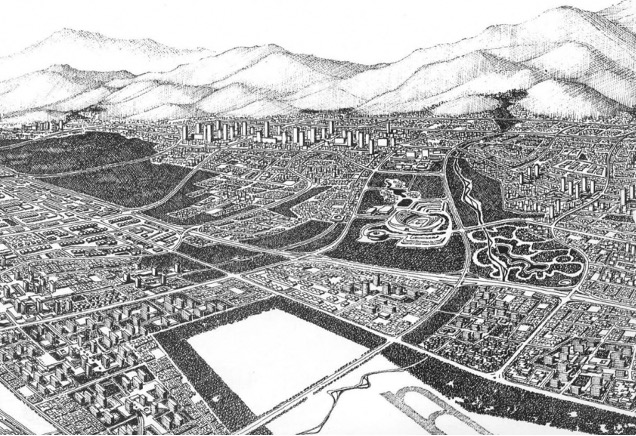 This book offers an understanding of the public spaces through which the political change, power struggle and autocratic modernity has been manifested. Through the historical framework, the book examines the relationship between political dimensions of public spaces and the built environment in Iran and the Middle East.

The book structures around a path-dependence trajectory that begins with an analysis of sovereignty challenges and space, then moves to the relationship between modernity (modern reason) and space, followed by a focus on rationality (power reason) and space, and ending by examining the relations between radicalism and space. In pursuing such analyses, this research engages with issues ranging from details of political histories of the case studies in public squares to the current master plan of the city of Tehran. In this regard, the book examines the relationship between affordances of public spaces, their histories, and the emergence of social events and movements.

The emergence of representative pseudo political public space for demonstration of power and national identity during the First Pahlavi Era (1925-41), reoccupation of public spaces by social movements and political parties during the nationalization of Iranian oil movement till 1953 Iranian coup d'état will be the second part and socio- political arrangement of capital as 'Metropolis of Tomorrow' and its urban transformation during the second Pahlavi Era (1941-79) till Islamic Revolution have been examined. The final chapter explores the spatial dimension of political spaces of the city and aims to theorize the necessity of urban social movements in a global context.



***
Başakşehir: Stories, Spaces,
and Bodies of Habitus Making
in Istanbul
MELTEM AL
McGill University, Peter Guo-hua Fu School of Architecture


Respondent: Dasha Kuletskaya (ETH, RWTH Aachen University)

This research explores the stories, spaces, and bodies of a conservative housingscape, Başakşehir, in Istanbul and analyzes its historical, spatial, architectural, social, and economic features. It deals with specific historical processes that the housing settlement has undergone since its foundation, the spatial manifestations of these processes, and specific actors that have played a role in these historical and spatial processes. Given its historical, social, political, and spatial significance, this work argues that Başakşehir is an emblematic place that embodies the current tensions, polarizations, and identity productions in Turkey on a larger scale through various actors and built objects.

In this work, I uncover interwoven relations between ideology, capital, and the production of space in the context of Turkey from the 1990s onwards through the analysis of selected newspaper articles and images, photographs, and interviews I conducted with various actors during my fieldwork research. Through these investigations, I trace the multiple meanings that Başakşehir—as a housing project, a provincial district, a habitus, a conservative community, and a soccer club—implies.