17 May 2022

The Infrastructure of Migration Management: An Architectural Lens on the Implementation of the EU "Hotspot Approach" in Greece

ALAA DIA
University of Basel


Respondent:
Giulia Scotto
University of Basel
Leros's Reception and Identification Center (RIC),
Lakki, Leros island, Greece, Source: Dia 2019
This presentation explores the implementation of the EU Hotspot Approach by analyzing the built-environment of hotspot migration centres (RICs) in Greece. I argue that these hotspot facilities took a "penal" turn by creating a built environment that forcefully detain and channel asylum-seekers through the Hotpots approach procedures. This has led to the creation of multiple exclusion zones at the level of the facilities, the island, and the wider border scape that restrain, filter, and contain migration flows towards the EU. First, I will present the core features and characteristics of the built environment of three hotspot facilities on the islands of Lesvos, Chios, and Leros. By studying the hotspot's built environment in comparison, I will show how the hotspot facilities' construction and design have formalized and normalized the "penal" built characteristics and the criminalization of migration by reflecting on the migration management practices into a material reality with long-term consequences. In a second step, I will show with concrete examples from the built-environment how the architectural set-up facilitates and enables the hotspots facilities as spaces of exclusion and filtering mechanisms. Here, I will decipher how a combination of different architectural elements and functional areas are common to administrative centres, refugee camps and detention facilities are employed in varying ways in the hotspot facilities. The presentation is based on the pilot phase ethnographic fieldwork and document analysis, satellite images, architectural surveys, and interviews. The presentation engages with and contributes to the scholarship of migration infrastructures and architecture, as well as critical migration research.
***
Fuelling the Developmental State. Sidama's Dichtomic Mobility Regimes
THOMAS BETSCHART
University of Basel


Respondent:
Tobias Hagmann
Roskilde University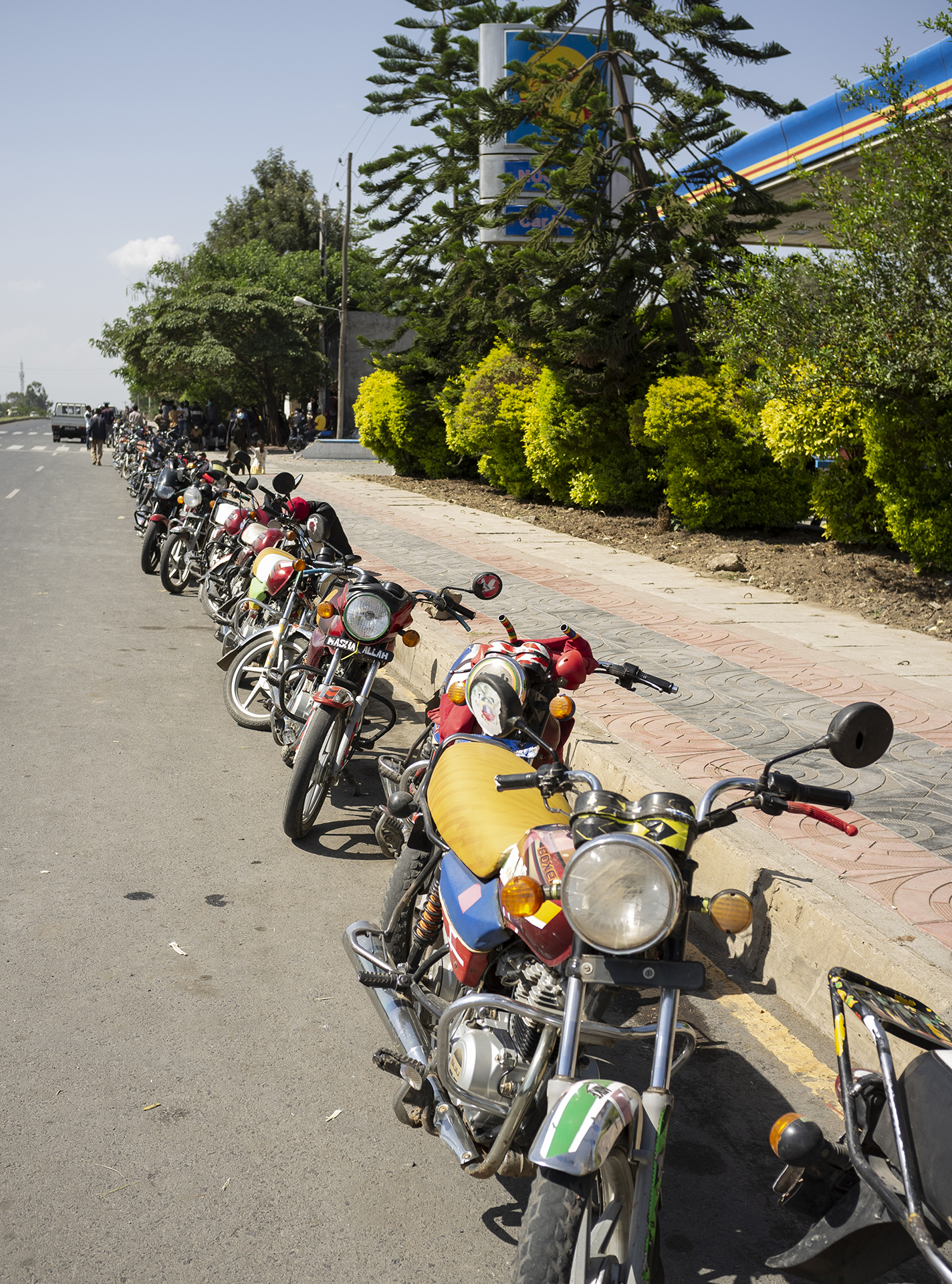 4 km long queue of motorcycles, waiting to be filled with petrol
along the Addis Ababa-Nairobi Corridor. Hawassa, June 2021.
Ethiopia looks back to a century long state-developmentalist, economic and urban development history. While the nation state is currently transforming at a fast pace since the inaugural of Abiy Ahmed's interim-government in 2018, ending 27 years of autocratic rule under the umbrella of TPLF (Tigrayan Peoples Liberation Front) domination, high-modernist plans of infrastructure development are still at the forefront of Ethiopia's all-encompassing narrative of eradicating poverty. These ambitious plans manifest in the state-driven emergence of large infrastructures that focus on the establishment of international and interregional interconnectivity, such as labor extractive industries. They further aim at shifting towards clustering urban geographies and to disperse socio-economic development, through the construction of roads and development corridors.
The work presented, discovers the governance of movement and the production of differential mobilities in the recently founded Sidama Regional State as an intervention of Ethiopia's urban political economy. Therefore, it explores how Ethiopia's federal state developmentalist project securitizes its territoriality and development projects in the context of political crisis and regional calls for political autonomy.